Leonard leads Spurs to sixth straight victory, 117-107 over Raptors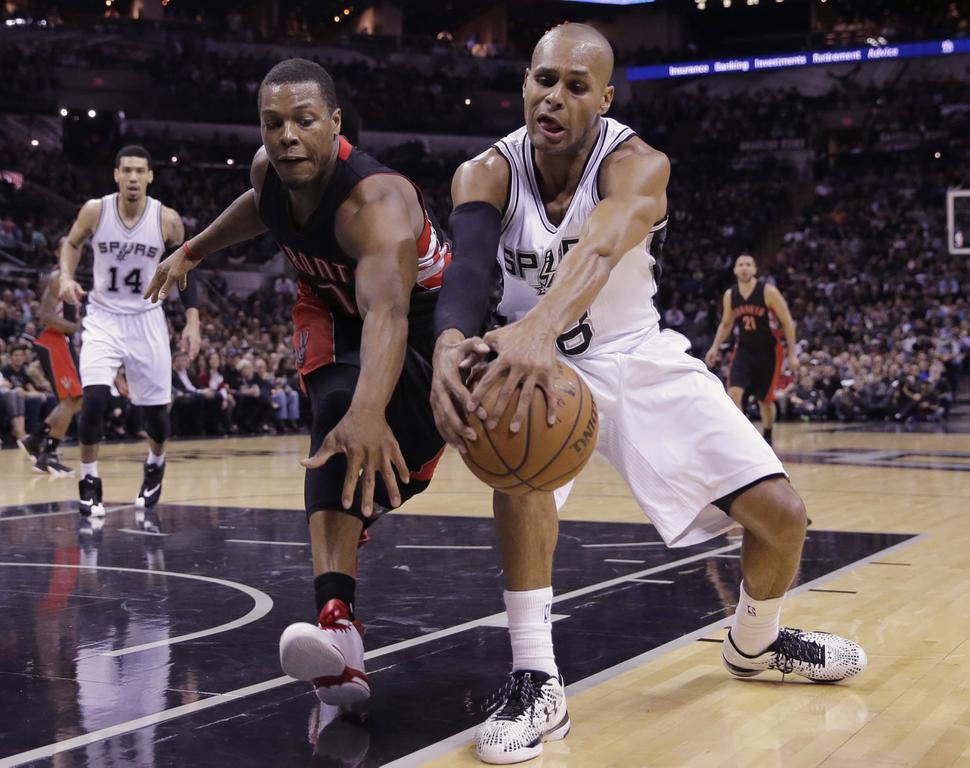 SAN ANTONIO — The scare the Toronto Raptors threw at the San Antonio Spurs in the second half was nothing compared to a couple of anxious minutes the defending champions had when Tim Duncan hit the floor.
Duncan was fine and so were the Spurs after nearly blowing a 26-point lead.
Kawhi Leonard had 24 points, 11 rebounds and matched a career high with five steals, and the Spurs withstood a second-half letdown to beat the Raptors 117-107 on Tuesday night for their sixth straight victory.
Tony Parker added 23 points and nine assists, while Danny Green was 5 for 6 on 3-pointers in scoring 19 points for San Antonio.
"I don't want to take away from the win, it was a great win against a great team, but we should have finished the game before," Parker said.
The game was still in doubt late, which kept Duncan on the court. He left with about a minute remaining, hyperextending his left elbow when teammate Tiago Splitter fell into him.
Spurs coach Gregg Popovich said he thought the injury wasn't serious and that Duncan would be OK.
That is good news for a team that is finally healthy after spending much of the season battling a succession of nagging injuries to half its roster.
"They told us right away (Duncan's injury) was not big, so maybe half a second (of anxiety)," Parker said.
After failing to make a field goal for the first time in his career in San Antonio's previous game, Duncan made the game's first basket on a follow of his own blocked shot 19 seconds in. He finished with 12 points and 13 rebounds in 36 minutes.
Duncan's early basket was part of an energized start for the Spurs against a Raptors team that has lost four straight and nine of 10.
Kyle Lowry had 32 points, DeMar DeRozan added 21 and Amir Johnson had 16 points and 14 rebounds.
Popovich called a timeout after DeRozan's layup put Toronto up 13-12. San Antonio responded by closing the first quarter on a 16-4 run that had the sellout crowd roaring its approval.
Green was 4 for 4 on 3-pointers in the first half.
"That's a big boost for us," Parker said. "Danny, like everybody, everybody was shooting bad on the road trip. It looks like he's getting his shooting touch back and that's huge for us. When he makes those big 3s, that gives us energy."
That energy waned in the second half, enabling Toronto to pull within six points in the final quarter.
A 3-pointer by Lowry counted despite officials blowing the play dead because the shot clock mistakenly reset on an airball. Officials said Lowry was already in his shooting motion when the whistle blew so the basket was good, pulling Toronto within 100-93.
The Spurs were able to withstand the late surge behind Leonard, Parker and Green, regaining a double-digit lead.
Lowry said the early deficit shouldn't have been a wake-up call.
"We need to play, we don't need a kick in our (behind)," Lowry said. "We've literally been getting our (behind) kicked, so we shouldn't need that type of first half. We should go and do it."
TIP-INS
Raptors: Toronto had five different leading scorers in its previous five games. … Toronto dropped to 17-15 on the road this season.
Spurs: San Antonio G Manu Ginobili did not play after leaving the team's morning shootaround early suffering from gastroenteritis. He has previously missed four games for rest. … San Antonio has won 14 of its past 16 home games, including six straight.
VOTE FOR … WHOMEVER
Popovich said Leonard deserves consideration for Defensive Player of the Year, but don't expect the veteran coach to lobby for his 6-foot-7 forward.
"We don't beg for awards or give estimations or that sort of thing," Popovich said. "We never have, we never will. We won't send out any chemistry sets for the All-Star Game or anything like that."
NO COMMENT
Popovich substituted Marco Belinelli for Green after Toronto's first offensive possession of the game and then pulled Belinelli for Cory Joseph on the Raptors' ensuing possession. Was Popovich trying to send a message to his players?
"I don't share those things with you," Popovich said.
© Copyright (c) Postmedia Network Inc.
Source:: http://www.canada.com/sports/basketball/Leonard+leads+Spurs+sixth+straight+victory+over+Raptors/10878366/story.html