Kourtney Kardashian Shares Photo of Night She Met Scott Disick…and it Looks Far From Romantic—See the Pic!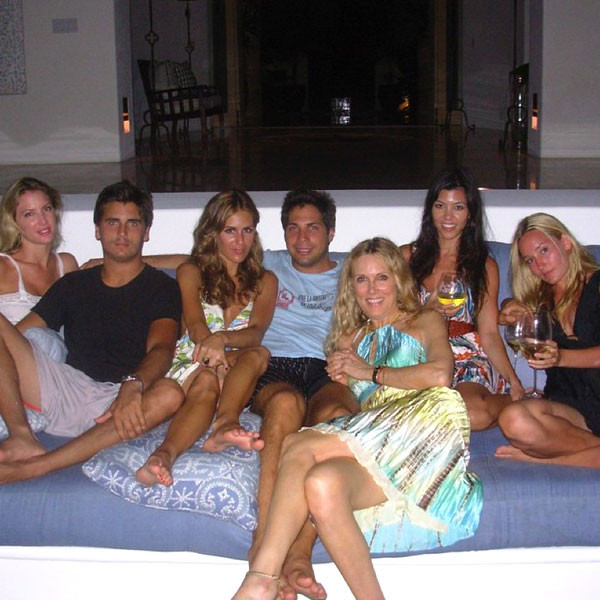 Instagram
It was not love at first sight for Kourtney Kardashian and Scott Disick, possibly because of all the, ahem, distractions.
The 35-year-old Keeping Up With the Kardashians star shared on her Instagram page a #fbf (flashback Friday) photo showing the two on the night they first met, which took place at a party about 10 years ago.
The father of their three children and longtime partner, who she recently called "amazing," is seen sitting with his legs splayed open, barefoot, wedged in between two women. On the other side of one of them is Girls Gone Wild founder and Kardashian family friend Joe Francis and on his other side is Kourt, holding a big glass of white wine.
"#FBF The night I met @letthelordbewithyou," she wrote.
NEWS: Scott Disick leaves rehab, spends time with Mason and Penelope back home—see the pic
On an episode of Kourtney & Khloé Take the Hamptons that aired last December, Disick, now 31, talked about the time he first met Kardashian, as the two dined with friends.
"When I met her, she was like 26, 25?"
"Love at first sight?" a friend asked.
"No," Kardashian responded.
"I- I liked her," Disick said. "She wanted nothing to do with me."
"I just thought he was so annoying," Kardashian said. "He was four years younger, he lived in New York, he didn't have a job."
"Three kids later, still no job, still no idea where it's going," Disick joked. "So, nothing's changed!"
Watch Keeping Up With the Kardashians on Sundays at 9/8c on E!
PHOTOS: Kourtney Kardashian and Scott Disick's family pics
RELATED VIDEOS:
Source:: http://ca.eonline.com/news/640635/kourtney-kardashian-shares-photo-of-night-she-met-scott-disick-and-it-looks-far-from-romantic-see-the-pic?cmpid=rss-000000-rssfeed-365-topstories&utm_source=eonline&utm_medium=rssfeeds&utm_campaign=rss_topstories