Kopitar, Lewis record three points each as Kings beat Oilers to snap three-game slide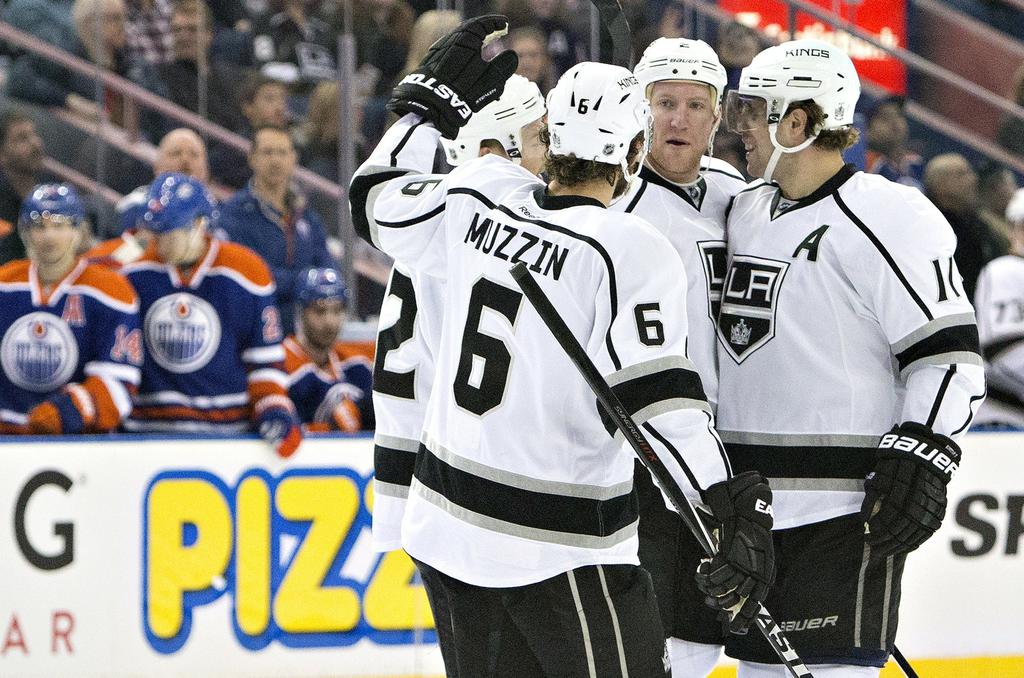 EDMONTON – The Los Angeles Kings hope that Tuesday was the start of a reversal of fortune.
Anze Kopitar and Trevor Lewis each had a goal and two assists as the Kings got a shot in the arm in their battle for a playoff position, defeating the Edmonton Oilers 5-2.
Matt Greene, Jeff Carter and Kyle Clifford also scored for the defending Stanley Cup champion Kings (30-21-12), who snapped a three-game losing skid that came on the heels of an eight-game winning streak.
"It was one of the more complete games we have played lately," Kopitar said. "We were on a bit of a skid, so we definitely needed that one tonight.
"At this time of the year and in the position we are in, we need the two points every night. A lot is going to depend on us. We don't want to put our fate in any other team's hands."
Lewis said he has definitely benefited from playing alongside Kopitar and Marian Gaborik of late.
"Those are two awesome players," he said. "They are always open and there to support you. I just try to get them the puck and get to the net and good things are happening. Playing with those two almost makes the game a little easier."
Luke Gazdic and Teddy Purcell replied for the Oilers (18-36-10), who have lost four of their last five.
"It seems like it's a common theme, we have three or four good games and then we have a bad game an we're right back down to square one where we started and we're trying to get over that hump," Purcell said. "It's discouraging for sure."
Greene hammered a point shot past Oilers starter Ben Scrivens as Los Angeles got on the board nine minutes into the opening period.
The Kings made it 2-0 in the final minute of the first, as a bad pass by Benoit Pouliot turned into a two-on-one the other way, with Lewis converting on a pass from Kopitar.
Then Los Angeles took a three-goal lead on a short-handed goal early in the second, as Carter stretched out on the fly to tip a pass with one hand on his stick past Scrivens.
Gazdic tipped a Jordan Oesterle shot past Kings starter Jonathan Quick to get Edmonton back into the game with seven minutes left in the second period.
Los Angeles made it 4-1 with three minutes left in the second as a bad rebound led to a scramble in front of Scrivens and a goal by Clifford.
Kopitar's shot deflected off defender Justin Schultz and in for his first goal in seven games as the Kings went up by four goals 26 seconds into the third.
The Oilers cut the lead to 5-2 on the power play five minutes into the third on a chip-shot goal from Purcell.
Quick made 21 saves for the win as Scrivens turned away 24 shots in defeat.
The Kings return home to face the Montreal Canadiens on Thursday. The Oilers begin a five-game road trip in Chicago on Friday.
Notes: Los Angeles has had Edmonton's number of late, coming into the game with a 7-0-1 record in their last eight games against the Oilers… Edmonton is pretty banged up at the moment with Tyler Pitlick (lacerated spleen), Taylor Hall (leg), Nikita Nikitin (shoulder), Viktor Fasth (knee), Anton Lander (shoulder) and Iiro Pakarinen (knee) out with injuries… The Kings were without Alec Martinez (concussion)… Darryl Sutter coached his 1,102th game, tying Billy Reay for 16th overall in NHL history.
Source:: http://www.canada.com/sports/hockey/Kopitar+Lewis+three+points+each+Kings+beat+Oilers+snap+threegame/10859140/story.html