Kevin Bacon on Why The Following Season 3 Is a Brand New Chapter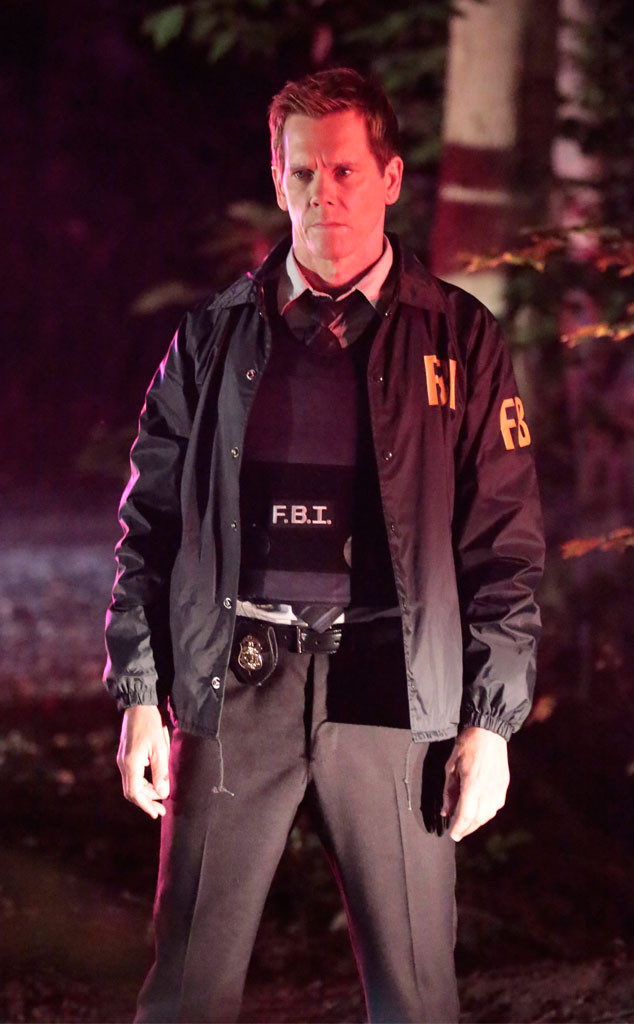 FOX
If you've never seen a single episode of The Following, then tonight's season three premiere is the perfect time to start watching.
Even though two full seasons of drama and action have already come and gone, this new season opens a brand new chapter of the hit Fox show. Beginning with a massive time jump, FBI agent Ryan Hardy (Kevin Bacon) has put his obsession with serial killer Joe Carroll (James Purefoy) in the past, and now that Joe's on death row awaiting his execution, Ryan believes he'll never have to see him ever again.
He's happy, has a new lease on life, and has truly moved on from the darkness in his past…that is, until one of his secrets threatens to bring all that pain and suffering right back into the present.
MORE: A Smallville fan-favorite alum joins The Following season three
FOX
Executive producer Alexi Hawley tells E! News that their goal was to being a new era of The Following with tonight's season premiere.
"When we started out, we wanted to talk about what the next chapter in the show is and almost do a re-pilot," Hawley says. "We launched the season in a way where new viewers could come into it and even if they haven't seen the show before, they can get up to speed very quickly and go on this new journey with us."
But that doesn't mean there won't be something for longtime fans of the show either, as the new threat attacking New York City is deeply connected with Ryan's shared secret with his niece Max Hardy (Jessica Stroup) and his ex-partner Mike Weston (Shawn Ashmore)…aka their cover-up of Mike's execution of last season's villain Lily (Connie Nielsen).
SPOILER CHAT: Scoop on The Following and more!
FOX
"It was very important for us to track through some of the choices they were forced to make in the first two seasons," Hawley says of connecting this season's big bad to previous seasons. "In order to catch some horrible people, the good guys actually did some horrible things. It felt like seeing them deal with the repercussions of that was important, especially since there is friction among the three of them about it."
That friction will become clear in the premiere, when all three of the Hardy Dream Team reunite for the first time in a very long time.
"Ultimately Ryan chose not to kill Joe at the end of last season in a way to choose life over death, but Mike, by killing Lily, is on a different path," Hawley says. "And then there's Max, who had to participate in a cover-up when she didn't want to. Now they're forced back together, forced to confront all of that by our villains. Where they're going to go with that is really interesting. Ultimately, that storyline plays out over the course of the first five episodes, and then the show spins off in a different direction from there."
CLICK: Is your favorite show renewed or canceled? Find out the fate of over 60 show!
FOX
Because Mike hasn't let go of his desire for his revenge on Lily's "son" Mark (Sam Underwood)—since Mark killed his father last season—expect to see his dark path continue this season.
"He will make some bad choices because of it," Hawley teases. "It does, to a certain extent, mirror Ryan's obsession over Joe in the first two seasons. We thought that was a really fascinating parallel. But Mike's is now tied up in his now-former relationship with Max."
And sorry, "Maxton" shippers, but there's definitely trouble in paradise for this fan-favorite couple.
"You'll see a flashback in the first episode back where Mike essentially chooses revenge over love," Hawley reveals. "He's head over heels for Max, they have this brand new relationship, but because Mark killed his father, he's powerless over his need for revenge and to chase Mark rather than stay with Max. And while he's gone, Max has moved on with a new guy. There's going to be a love triangle that plays out."
CLICK: TV's most inspirational kickass women
FOX
But while Mike's relationship troubles are only just beginning, Ryan's love life is actually pretty great for the first time in a long time when the season begins.
"I'm really excited for fans to see Ryan Hardy go on this big emotional journey," Hawley says. "He had one in season two in regards to whether or not he would kill Joe, but we wanted to put him in a relationship that's real—not to say Claire's [Natalie Zea] wasn't real, but she was the ex-wife of a serial killer so that was never destined for success. But to actually put him in a healthy relationship and see how that suffers when the sins of the past and old obsessions start to come out is really exciting for us."
Want more scoop? Press play on the video below to check out all the scoop Bacon and Ashmore told us about the new season!
CLICK: 13 shows we love to hate…and hate to love!
The Following season three premieres tonight at 9 p.m. on Fox.
CLICK: The 28 most amazing and hilariously awful TV ads of the season!
RELATED VIDEOS:
Source:: http://ca.eonline.com/news/631003/kevin-bacon-on-why-the-following-season-3-is-a-brand-new-chapter?cmpid=rss-000000-rssfeed-365-topstories&utm_source=eonline&utm_medium=rssfeeds&utm_campaign=rss_topstories