Kate Middleton recycles another dress for Margate outing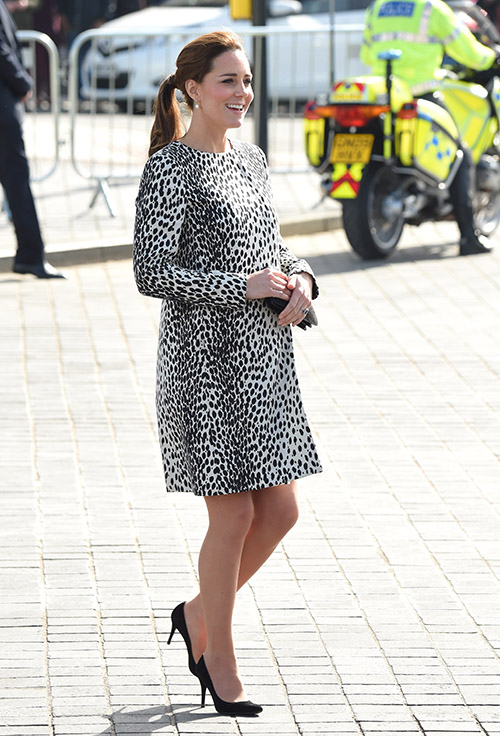 This old thing? (Getty)
Kate popped out for a visit to a local gallery today with a few friends (aka hordes of flag waving royal watchers baying behind crowd control barriers). Since it was just a casual outing on a lovely spring day, the Duchess wore on an old mac from a favourite high street brand. So where have we seen this look before?
[1]
The Hobbs coat Kate[2] sported today had the honour of being worn in her previous pregnancy at the christening of a ship. Interesting piece of information: When Kate wore this coat while carrying George, it actually marked her last public appearance before her royal mat leave. Kate is in her eighth month right now as well, so…coincidence?
READ MORE:
Kate Middleton's impeccable maternity wardrobe
[3]The Duchess of Cambridge's most stylish moments of 2014[4]
Similar Posts:
You might also like
About Sarah Laing
I can never finish The New Yorker before the next one arrives in the mail. I still haven't found that wear-anywhere mid-heel shoe, and I despair of locating the perfect red lipstick. I'm still working on making 'hats my thing', and I can kick my coffee habit anytime I want, okay? What I do know? Gone With the Wind is the greatest movie ever, and bliss is scrambled eggs on crunchy white bread.
References
^ Kate (www.ellecanada.com)
^ Kate (www.ellecanada.com)
^ Kate Middleton's impeccable maternity wardrobe (www.ellecanada.com)
^ The Duchess of Cambridge's most stylish moments of 2014 (www.ellecanada.com)
Source:: http://ellecanada.com.feedsportal.com/c/34164/f/621200/s/44471544/sc/10/l/0L0Sellecanada0N0Cblog0C20A150C0A30C110Ckate0Emiddleton0Erecycles0Eanother0Edress0Emargate0Eouting0C/story01.htm