Kassian scores winner as Canucks down Ducks 2-1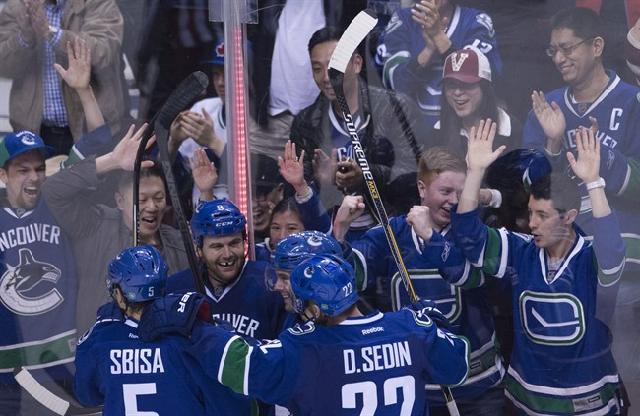 VANCOUVER – Zack Kassian scored the winner in the third period Monday as Vancouver Canucks defeated the Anaheim Ducks 2-1.
Bo Horvat had the other goal for Vancouver (38-24-4), while Eddie Lack stopped 29 shots as the Canucks beat the Ducks in regulation for the first time in more than two years.
Emerson Etem replied for the Ducks (42-19-7), who dropped their second straight after winning four in a row.
Frederik Andersen made 14 saves for Anaheim.
Kassian snapped a 1-1 tie with 3:59 left in the third after Canucks defenceman Dan Hamhuis took the puck down the left side and fed the big winger, who fired a shot that Andersen only got a piece of for his 10th of the season.
Nate Thompson hit the post behind Lack moments after Kassian put Vancouver ahead, but the Canucks held after also killing a penalty for their first victory over Anaheim in a 60-minute game since Jan. 25, 2013 — a stretch of 10 games.
Etem tied the game 1-1 at 8:40 of the third period after the Canucks failed to clear their zone. Nate Thompson grabbed the puck behind the Vancouver net and fed Etem, who buried his fifth past a helpless Lack.
The goal seemed to ignite the Canucks. Vancouver had the next five shots — their first five of the period — before Shawn Matthias fanned on another attempt from the slot on an open net.
Anaheim had a great chance with just over five minutes to go, but Corey Perry's shot that squeaked through Lack stopped on the goal-line before the puck was frozen by the sprawling goalie.
Up 1-0 after the first period, Lack stretched to make a great pad save off Perry on a power play early in the second.
Anaheim led 20-10 on the shot clock through 40 minutes, including 8-5 in the middle period, but Vancouver did a good job of keeping the Ducks to the outside.
After allowing the first goal in six straight games, and having gone down 2-0 in each of their last four, the Canucks opened the scoring at 9:57 of the opening period when Horvat jumped on a loose puck in the slot and ripped his 11th of the season, and second in as many games, shortside on Andersen.
It marked just the fifth time in the last 22 outings that Vancouver scored first, but it was one of only a handful of chances against an Anaheim team that had a number of grade-A opportunities against Lack.
Ducks captain Ryan Getzlaf hit the crossbar a minute into the game before Lack stoned Anaheim defenceman Cam Fowler with a nice pad save moments after Horvat's goal. Fowler then looked skyward after firing over a wide open net on a power play later in the period.
—
Follow @JClipperton_CP on Twitter
Source:: http://www.canada.com/sports/hockey/Kassian+scores+winner+Canucks+down+Ducks/10875480/story.html