Jackson has 28 points as Pistons beat Raptors 108-104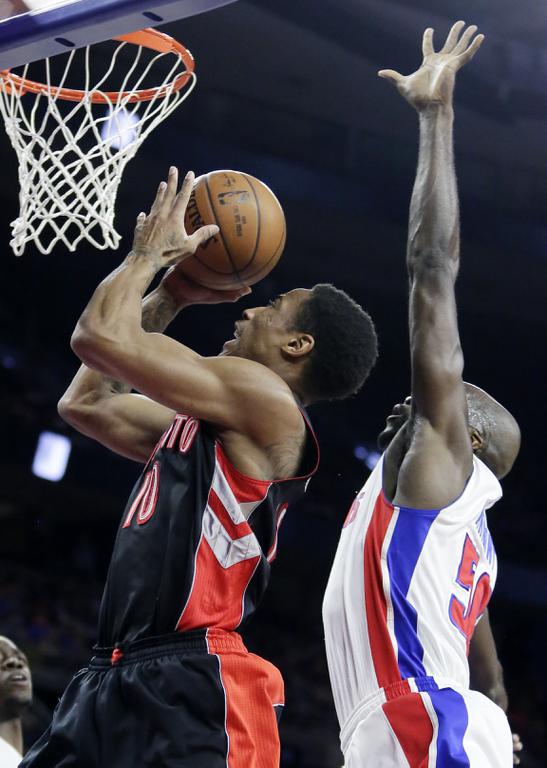 AUBURN HILLS, Mich. — Reggie Jackson had 28 points and nine assists and Andre Drummond added 21 points and 18 rebounds as the Detroit Pistons beat the Toronto Raptors 108-104 on Tuesday night.
Jackson and Kentavious Caldwell-Pope combined for 54 points, 13 assists and 11 rebounds in the game without committing a turnover.
DeMar DeRozan had 22 points and 10 rebounds for the Raptors, who lost point guard Kyle Lowry to back spasms in the second quarter.
Toronto came back from 15 down to take a 91-90 lead with 5:41 left, but Detroit scored the next seven points, including Caldwell-Pope's fifth 3-pointer of the night.
Toronto, though, came back to tie the game at 99 on a Lou Williams 3-pointer with 2:35 to play, and then took the lead on Patrick Patterson's three-point play.
Two Jackson free throws and a running hook by Tayshaun Prince made it 105-102 Pistons with a minute to play, and Williams missed a 3-pointer with 1.6 seconds left to give Detroit the win.
The Raptors struggled badly on both ends of the floor in the first half, hitting just one of 10 3-point attempts while the Pistons were shooting 47.4 per cent from behind the arc and 48.9 overall. Caldwell-Pope had 18 points in 18 first-half minutes, including three 3-pointers, while Drummond had eight points and seven rebounds.
Caldwell-Pope left the game early in the third after taking a knee to the thigh while trying to get around an Amir Johnson pick, but returned later in the period. By that point, Detroit had expanded its lead to 79-64, with Jackson and Drummond having scored all 19 Pistons points.
Toronto narrowed the gap to 85-75 by quarter's end, then scored the first five points of the fourth to force a Stan Van Gundy timeout after only 54 seconds. After the timeout, Drummond scored on his second put-back attempt of the possession, and Caldwell-Pope hit a 3-pointer to put the Pistons back up by 10.
The Raptors, playing in front of what was essentially a home crowd, came back again and took a 91-90 lead on DeRozan's jumper, setting up the back-and-forth finish.
TIP-INS
Raptors: For the second time this season, Toronto fans outnumbered Pistons fans at the Palace. The crowd was so partisan this time that when national-anthem singer LaShell Renee's microphone cut out during the Canadian national anthem, she was able to let the crowd continue the song before joining back in at the start of the next line.
Pistons: Shawne Williams returned after missing the last two games with an illness, giving the Pistons two power forwards once again. While Monroe and Williams were both out, Tayshaun Prince had been backing up Tolliver, forcing Van Gundy to play very small lineups. Prince, though, finished the game at power forward after Tolliver fouled out.
UP NEXT
Raptors: Host the Bulls on Wednesday.
Source:: http://www.canada.com/sports/basketball/Jackson+points+Pistons+beat+Raptors/10916633/story.html