Is Maggie Smith Leaving Downton Abbey?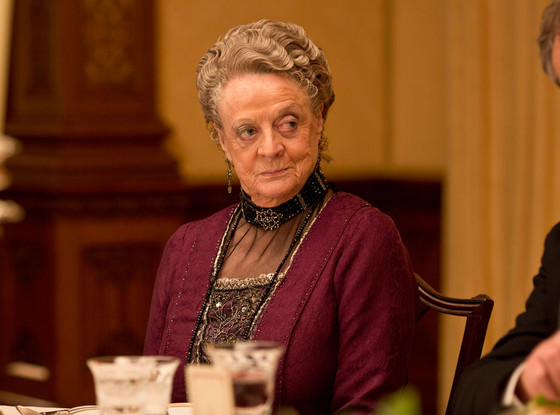 Courtesy of ©Nick Briggs/Carnival Film and Television
Downton Abbey without Maggie Smith?! It could happen. Or maybe not.
Downton Abbey just wrapped its fifth season in the United States, but all eyes are already on the upcoming sixth and potentially final season of the crossover hit period drama. The Oscar, Emmy, Golden Globe and Tony winner told Sunday Times that she's likely hanging up her Dowager Countess wardrobe after the upcoming sixth season (which is rumored to be the show's last).
"They say this is the last one, and I can't see how it could go on," Smith told the Sunday Times. "I mean, I certainly can't keep going. To my knowledge, I must be 110 by now. We're into the late 1920s."
CLICK: Downton Abbey's big proposal
Those words don't necessarily mean Smith can't be wooed back for a potential seventh season if the show keeps going. Series creator Julian Fellowes is also working on a new period drama, The Gilded Age, for NBC. But he won't begin work on that series in earnest until Downton Abbey wraps up, which has made many speculate about the Emmy-winning drama's future.
Producers have been cagey about a potential end point. In an interview with The New York Times, Fellowes said he doesn't have control over when Downton ends.
"It's not really my decision. I don't own Downton Abbey now. NBC Universal [which owns Carnival Films] owns Downton Abbey. So I could walk away, but I wouldn't walk away. It's too much my baby," he said. "It won't go on forever — I'm not a believer in that. But I can't immediately now tell you where the end will be."
MORE: You need to see this epic Downton Abbey cake
Courtesy of ©Nick Briggs/Carnival Films 2014 for MASTERPIECE
As for other faces who may be exiting the drama, Fellowes wouldn't comment about the status of Allen Leech's Branson who has been discussing a move to the United States for seasons and planned to make the big leap at the end of season five. "Oh, no, I never answer those questions," Fellowes said when asked if Branson was gone for good.
Lily James, who can next be seen in Cinderella on the big screen, told Zap2It she hopes her character, Rose, will appear in the sixth season. There was question about her status because of Cinderella.
"I'm really hoping to come back, I feel like it's definitely going to happen," says James. "It depends on what [creator Julian Fellowes] writes and all sorts of things." 
Request for comment from Masterpiece regarding potential cast exits was not immediately returned.
PHOTOS: Downton Abbey stars in and out of costume
RELATED VIDEOS:
Source:: http://ca.eonline.com/news/630957/is-maggie-smith-leaving-downton-abbey?cmpid=rss-000000-rssfeed-365-topstories&utm_source=eonline&utm_medium=rssfeeds&utm_campaign=rss_topstories