Hudler, Varlamov and Talbot capture NHL's three stars of the week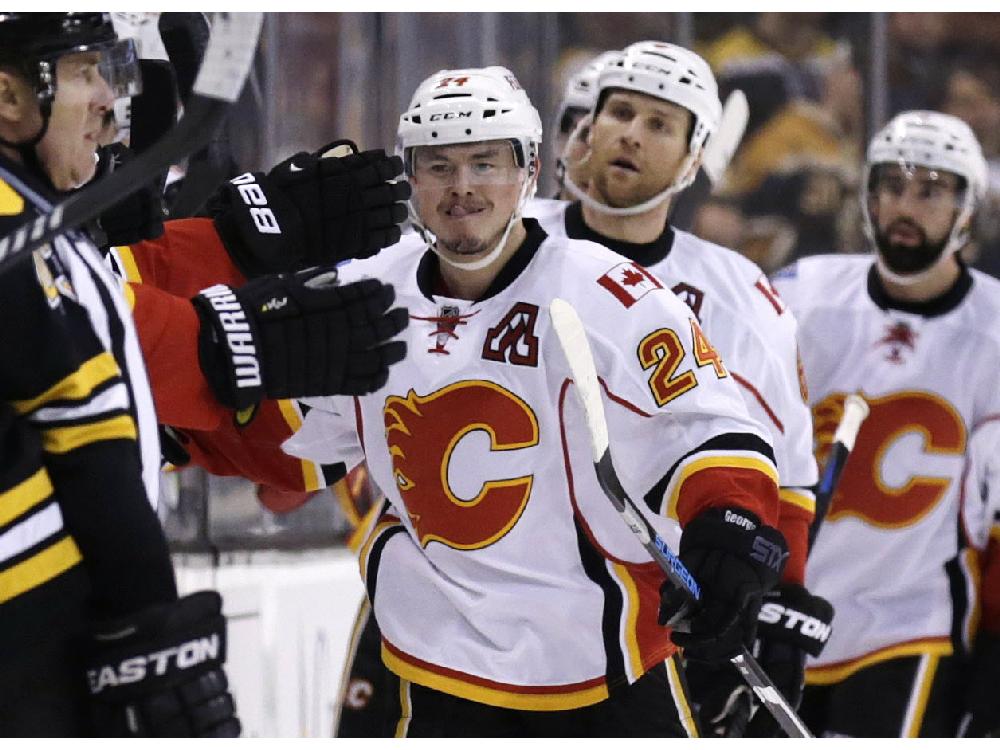 Calgary Flames left wing Jiri Hudler (24) is congratulated by teammates after his goal against the Boston Bruins during the second period of an NHL hockey game in Boston, Thursday, March 5, 2015.
Photograph by: Charles Krupa , Calgary Herald
NEW YORK, – Calgary Flames centre Jiri Hudler was named the NHL's first star of the week Monday.
Hudler had four goals and four assists to help Calgary earn seven of a possible eight points. He leads the Flames with 23 goals and 33 assists in 63 games this season.
Goaltenders Semyon Varlamov of Colorado and Cam Talbot of the New York Rangers earned the second and third stars, respectively.
Varlamov went 3-0-0 with a 0.69 goals-against average and one shutout to lead Colorado to three straight wins. The 26-year-old Russian has a 22-17-7 record in 46 appearances this season with a 2.56 GAA and .921 save percentage.
Talbot posted a 2-0-1 record and 0.99 goals-against average with a shutout as New York captured five of a possible six points. The 27-year-old Caledonia, Ont., native has appeared in 26 games, posting a 14-6-4 record and 2.33 GAA.
Source:: http://www.canada.com/sports/hockey/Hudler+Varlamov+Talbot+capture+NHLs+three+stars+week/10874106/story.html