How Steve Nash met Team Northwest Territories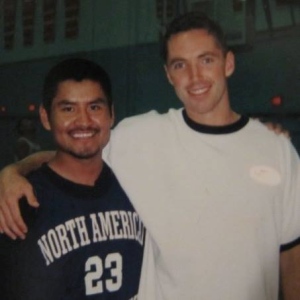 Saturday's news that Canadian basketball icon Steve Nash was retiring from basketball resonated for Canadians in many ways: as a premier athlete, a national icon, an outspoken role model.
However, for one group of athletes from the Northwest Territories, the connection is more personal than most. 
Deneze Nakehk'o was part of a team of basketball players who travelled to the 1997 North American Indigenous Games in Victoria. Described by Nakehk'o as a "ragtag group," the team included some of his cousins from Fort Simpson, his younger brother, SaChey, and current Inuvik Boot Lake MLA Alfred Moses, among others.
"We, I think, were way over our heads, going to the competition there," says Nakehk'o. "But we had a lot of fun. And we were just getting ready for a game in the gym, and my brother SaChey… we were all hanging out, getting our stuff ready, getting mentally prepared. 
"And then he's like: 'Hey guys, is that Steve Nash up there?'"
The group looked up, seeing a young man in the bleachers, watching the tournament, alone. 
"We were like: 'No way,'" says Nakehk'o. "Steve Nash is going to the NBA. Why would he be here watching us?"
Nash poses with Alfred Moses, who would later become the MLA for the N.W.T.'s Inuvik Boot Lake riding. (Submitted by Deneze Nakehk'o)
As the youngest player on the team, SaChey was given the task of approaching the stranger in the stands, who just happened to be a 23-year-old Victoria native fresh off his first season in the NBA, and a future two-time league MVP and Canadian hero. Starstruck, the entire team approached Nash.
"He was a super, super nice guy," says Nakehk'o. "You look at the NBA now, and you see all these guys travelling around with their entourage, but he was just a totally humble dude. He was back home for the summer, and he heard there was some basketball going on and just came to check it out."
'That's something that really inspired me'
Nash answered some questions from the team before posing for photos, sating the curiosities of a group of wide-eyed teenagers from the N.W.T., many from communities with populations under 1,500. 
"My brother SaChey asked him about his shoes," says Nakehk'o. "Like: 'So, do you have to buy your shoes?' And he said no, he's signed with Nike, and Nike gives him free shoes. And we were all like 'No way! That's awesome!'"
It was a meeting that stuck with Nakehk'o, who still plays basketball in Yellowknife and has begun coaching youth as part of the Steve Nash Youth Basketball Initiative. After the meeting, Nakehk'o says he paid special attention to Nash's career, and says he influenced him both on and off the court. 
"What he was known for was his passing, and making his teammates better," says Nakehk'o. "And I think that's something that really inspired me. When I play, I enjoy passing the ball and setting up teammates. And I guess that's inspiration from Steve Nash and the way he played."
And if the Canadian icon happens to remember the nearly 18-year-old encounter, Nakehk'o has a question for him.
"If Steve's listening, I invite him to come up here, maybe run a couple camps," he says. "I think that would be good for the game up here."
Source:: http://www.cbc.ca/news/canada/north/how-steve-nash-met-team-northwest-territories-1.3006990?cmp=rss