Homeless woman 'deserves' humanitarian award, supporter says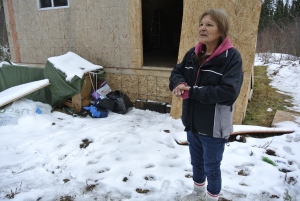 Darlene Necan, the homeless woman from northern Ontario who fought for the right to live in the cabin she built herself on Crown land, deserves a humanitarian award, one of her supporters says.
Steve Watson was among a number of Toronto residents who became engaged in Necan's struggle. The 55-year-old Ojibway woman was charged with breaches of the Public Lands Act for building on crown land after she constructed a one-room cabin on land where she grew up in Savant Lake, Ont., about 400 kilometres north of Thunder Bay.
Darlene Necan deserves a visit from the Premier at this cabin in Savant Lake and a humanitarian award, according to supporter Steve Watson. (Jody Porter/CBC)
The province withdrew the charges on Thursday, saying a lengthy trial wasn't in the public interest when Necan stood firm in her conviction that she had an Aboriginal right to the land.
"So I am asking the Premier to go there and meet with her and it would be nice if she brought with her a humanitarian award to give to Darlene, because she deserves one for what she's done," Watson said. 
Necan deserves the award particularly because she sought a solution to her own homelessness in the face of a housing shortage on her Ojibways of Saugeen First Nation reserve, Watson said.
Her victory should be seen by the province as an opening to find solutions for the broader issue of homelessness among Indigenous Peoples in the province, he said.
"All they want to do is live on their land and be independent, to live by their own wits, to live by their own hands," Watson said. "And we shouldn't stand in the way of that."
Source:: http://www.cbc.ca/news/canada/thunder-bay/premier-kathleen-wynne-urged-to-bestow-award-on-darlene-necan-1.3003511?cmp=rss