Homeless man shot by L.A. police was released from prison last year after 14 years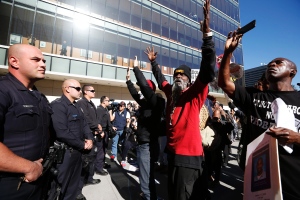 A homeless man killed on Skid Row by Los Angeles police had been released last May from a federal prison after serving roughly 14 years for bank robbery, a law enforcement official said Tuesday, as people took to the streets to protest the shooting. 
The man was identified as Charley Saturmin Robinet by the official who had been briefed but was not authorized to speak publicly about the investigation and spoke on the condition of anonymity.
Robinet was a French national who was convicted in 2000 of three federal charges for holding up a Wells Fargo branch and pistol-whipping an employee to pay for acting classes at the Beverly Hills Playhouse.
Federal prison records show he was released on May 12.
Robinet, who acknowledged being an illegal immigrant, was arrested along with an accomplice and a getaway driver after they tried to rob the bank.
People protest against the killing of a homeless man by police outside LAPD headquarters in Los Angeles. Police officers trying to subdue a robbery suspect in the city's skid row section shot and killed the man as he tried to grab an officer's gun during a scuffle that was captured on video, police said on Monday. (Lucy Nicholson/Reuters)
Robinet was killed Sunday after a confrontation with police. Authorities say he tried to grab a probationary officer's gun and three officers fatally shot him.
The three officers who fired their weapons in a videotaped struggle that left a homeless man dead were veterans of the Skid Row beat who had special training to deal with mentally ill and other people in the downtrodden area, police leaders said.
But a recently-hired officer who cried out that the man had his gun, leading to the shooting, had considerably less experience, and police didn't immediately say how much training he had received in dealing with mentally ill people. All officers must go through at least an 11-hour course.
Police Chief Charlie Beck said some of the veteran officers had "completed our most extensive mental illness training over a 36-hour course." Initial signs showed the officers used what they had learned during the confrontation, despite the outcome, he said.
The shooting was captured on video but exactly what happened remained unclear. The footage has been viewed by millions of people online.
Protest rallies 
Several dozen people rallied Tuesday in protest of the shooting. There was a moment of silence, and participant Patrisse Cullors declared the shooting site to be "sacred ground."
An unnamed official said Tuesday that the man killed in the shooting was Charley Saturmin Robinet. People walked through skid row today in protest against the killing. (Lucy Nicholson/Reuters )
A memorial at the site of the shooting features white roses placed over a tent, blankets and clothing belonging to the man known as "Africa."
Footage showed the homeless man reaching toward the recently-hired officer's waistband, Beck said. The officer's gun was later found partly cocked and jammed with a round of ammunition in the chamber and another in the ejection port, indicating a struggle for the weapon, Beck said.
"You can hear the young officer who was primarily engaged in the confrontation saying that `He has my gun. He has my gun,"' Beck said. "He says it several times, with conviction."
The three other officers then opened fire.
The man who was shot was black, as is the recently-hired officer who was just short of completing his probationary year on the force, police said.
The violence had echoes of the August police shooting of 25-year-old Ezell Ford, whose death in a struggle with Los Angeles officers brought demonstrations in the city. Ford was unarmed. Police said he was shot after reaching for an officer's gun.
Source:: http://www.cbc.ca/news/world/l-a-police-shooting-victim-id-d-as-charley-saturmin-robine-1.2980343?cmp=rss