Home Entertainment Consumer Guide: March 26, 2014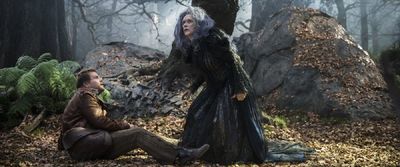 With no major gift-giving holiday upcoming (other than for those lucky enough to get more than candy from the Easter Bunny), the Blu-ray/DVD market has been a little dry lately, but that doesn't stop us at the HECG from bringing you the latest titles of interest, complete with links to buy them and details on their special features. The market the last two weeks has been oddly dominated by musicals, including 2014's two biggest offerings in the genre and a lavish anniversary of one of the most beloved musicals of all time. There's also a restoration of one of my favorite noirs of all time, priced at most outlets for under ten bucks. You'd be losing out if you didn't buy it.
9 NEW TO NETFLIX
Of course, the biggest news is that Steve James' masterful documentary based on the memoir of Roger Ebert is now on the most popular streaming service in the world. However, it's not alone as far as recent notable releases are concerned as Netflix has been offering a diverse array lately, including an underrated work of Oliver Stone's and one of the best foreign films of 2014. There's also arguably the most influential horror film of the '00s and a few recent indie hits, including one starring Jessica Chastain and available in three forms. Pick your fave.
"Amadeus"
"Deep Blue Sea"
"The Disappearance of Eleanor Rigby"
"Force Majeure"
"Life Itself"
"Saw"
"Syriana"
"W."
"The Way He Looks"
10 NEW TO BLU-RAY/DVD
"The Lady From Shanghai"
Orson Welles' 1948 noir was once seen as a failure, largely due to the notorious editing of its wildly influential funhouse climax, which was reportedly once much longer and more elaborate. A film that already had wild tone shifts (the courtroom scene may be the weirdest in noir history) was mangled by a producer who wanted to create as crowdpleasing of a property as possible. And yet Welles' vision remains, and history has been remarkably kind to "The Lady From Shanghai," in part at least because it's so unusual. It's a film about a man who is used and manipulated that does something similar to the audience, keeping them off-center, uncertain, racing to catch up with its twisting narrative. And the new 4K restoration from Mill Creek Entertainment looks amazing, really showing off the film's technical prowess, lavish locations, and unique special effects. "Lady From Shanghai" is a film that gets better every time I see it. I wish that Mill Creek had taken the time to produce some special features about a film with a very unique history, and more than a few technical elements worth critical dissection, but the film itself and this restoration warrant a look for classic movie fans.
Buy it here
"Listen Up Philip"
Alex Ross Perry's caustic commentary on the isolation of intellectual snobbery was one of the most underrated films of 2014. It not only features Jason Schwartzman's best performance in years, but, with "The One I Love," it announces that Elisabeth Moss in an actress to whom we really need to pay attention in the next few years. She's phenomenal here, perfectly capturing someone who knows that her partner is kind of an asshole but stays with him mostly out of intellectual admiration. Jonathan Pryce is great as well. In fact, the only problem I have with this release is that it's a super-quiet, DVD-only edition of a film that needs to find a bigger audience. Hopefully, word of mouth will bring it to the viewers it deserves. Yes, comedies about bitter, angry people like Philip–comedies that allow people to be assholes–can be a tough sell and aren't really for everyone, but I know too many people who missed "Philip" in its brief theatrical run who I hope catch up with it on DVD. It's also currently available for free for Amazon Prime viewers. Watch it. Tell your friends. Do your part.
Buy it here
Special Features
Featurette
Teaser Trailer
Behind the Scenes
Book Covers (photo gallery)
Deleted Scenes
Commentary
"Song of the Sea"
Perhaps the least heralded or well-known 2014 Oscar nominee was this delightful Irish fable from GKids and Tomm Moore, director of "The Secret of Kells." I like this film even more, as it perfectly blends traditional childhood fears with more classical storytelling techniques. And it looks amazing on Blu-ray. My toddler son watched the film and couldn't follow much of the story but clearly felt the themes of the piece and admired the imagery. It's like exposing your child to poetry instead of prose, and that's too rare an opportunity for parents. "Song of the Sea" is a rare film.
Buy it here
Special Features
Behind the Scenes
Animation Tests
The Art of "Song of the Sea"
Audio Commentary with Director Tomm Moore
"Top Five"
Chris Rock's critical darling was one of the most buzzed-about films from Toronto 2014 and it's easy to see why in that it finally fulfills this amazing comedian's cinematic potential…to a degree. The story of a formerly famous stand-up named Andre Allen (played by Rock) who is concerned that he can't be funny any more now that he's sober works better than anything Rock has ever done on film when it stays personal and real. Clearly inspired by the work he did with Julie Delpy on "Two Days in New York", Rock shines in dialogue scenes between him and Rosario Dawson. It's the set pieces like a memory about Andre's rock bottom or a horrendous bit about a gay boyfriend that just don't work. They're not needed. It's ironic that "Top Five" is about a comedian who doesn't trust his own talent because that's kind of how the movie plays in that Rock doesn't trust that he doesn't need the extreme beats to make a funny movie. It's the little things that really work here and that I hope he expands on next. Although it's nice to say for the first time in a while that I can't wait to see what that is.
Buy it here
Special Features
Commentary by Chris Rock and JB Smoove
Andre Allen Stand-Up Outtakes
Deleted Scenes
"The Sound of Music"
If you didn't fully grasp the eternal love for "The Sound of Music" before this year's Academy Awards, you certainly should know. WELL into an over-long program, the Oscars took a break from current cinema to pay homage to a 50-year-old movie and, around the world, people lost their minds. Twitter, home to general negativity, couldn't get over Lady Gaga and Julie Andrews sharing a stage even for a moment, especially after the former destroyed a montage of favorites from this eternally adored film. Knowing that one can never make enough money off a classic, Fox pulls "The Sound of Music" out for another Blu-ray release this month and goes ALL out with a 4-disc edition that includes a DVD and digital copy of the film as well as new and vintage special features. It's one of those releases for which one imagines it would be hard to believe that anyone could possibly ask for more. It even has a sing-along track for your next karaoke party. And the film itself looks and sounds great. It's the definitive edition for a beloved film.
Buy it here
Special Features
Disc 1:
"Your Favorite Things: An Interactive Celebration"
Music Machine Sing-Along
Audio Commentaries with Julie Andrews, Christopher Plummer and Director Robert Wise
Disc 2:
"Musical Stages: Creating The Sound of Music"
"A City of Song" – Virtual Map of Filming Locations in Salzburg, Austria
Vintage Rodgers & Hammerstein and "The Sound of Music" Programs
Screen Tests, Rare Treasures, Interviews, Photo Galleries & More!
Disc 3:
All-New 60-Miunte Hi-Def Documentary – "The Sound of a City: Julie Andrews Returns to Salzburg
Disc 4:
Feature Film in Standard Definition
Optional Sing-Along Track
Music Machine Sing-Along
"The Sound of Music" Tour – "A Living Story"
Disc 5:
CD: 50th Anniversary Soundtrack
"Penguins of Madagascar"
I avoided this spin-off of the "Madagascar" franchise in theaters for two reasons. 1.) With three kids, I knew I'd see it eventually. 2.) Fourth films in animated franchises don't usually work. So no one is more surprised than I am that this is a pretty funny, pretty smart piece of animated entertainment, certainly better than at least two of the "Madagascar" films from which it spun off. Yes, it's bloated and a little too reliant on physical humor, but the old-fashioned jokes (like the running bit with celebrity last names turned into verbs) had me smiling. And it doesn't hurt that the Blu-ray is loaded with special features for the kids to enjoy. It may seem like faint praise, but you could do a lot worse, parents. Sure, it's no "Song of the Sea," but it's no "Rio 2" either.
Buy it here
Special Features
Top-Secret Guide to Becoming an Elite Agent
"He Is Dave" Music Video
Flipper Slap Shake Waddle and Roll
"Celebrate" Music Video by Pitbull
Do the Penguin Shake with tWitch
Deleted Scenes
Global Flight Plan
Cheezy Dibbles Ad
World of DreamWorks Animation
Gallery
"Annie"
Speaking of musicals, and speaking of family entertainment, the remake of the beloved "Annie" with Jamie Foxx and Cameron Diaz was critically destroyed by nearly everyone (except our very own Matt Zoller Seitz) when it was in theaters. Critics must have been grumpy this December because this movie is far from horrible. In fact, it's definitely superior the Oscar-nominated musical released the same month that you'll find below. The problem with "Annie" is that it kind of deflates as it goes along. There are pacing issues. It feels epic. And yet there are moments even after that buoyant first act that connect, especially the work by Wallis and regular MVP Rose Byrne. There's an energy here that's typically missing from modern musicals. Yes, Diaz is miscast and doesn't work. But, I don't know, there's a smile and a joy in "Annie" that's more infectious than I expected. My kids dig it, and that matters even if it just introduces them to better musicals. It's also worth nothing that Sony PACKED this Blu-ray with special features for the entire family. There are tons of them, including an entire deleted song, music video, outtakes, and a commentary track.
Buy it here
Special Features
5 Sing-Along Tracks
Deleted Song: "Something Was Missing"
Bloopers
A Day on the Set with Quvenzhane
It's a Hard Knock Camp: Auditions and Training
"Moonquake Lake," a Set!
"Annie" Trivia
Tomorrow Around the World
Sandy Outtakes
Photo Gallery
Also Includes:
Music Video "You're Never Fully Dressed Without a Smile"
The Making of "Annie"
Director's Commentary
"Into the Woods"
How do so many talented people get sucked into such a lifeless project? To be fair, I was never a big fan of the stage play, but the tough life lessons that work has to offer through the lens of well-known fiction are completely diluted here. All we're left with is a cluttered narrative with shallow character, too often delivered in bland performances, particularly from the poorly directed child actors. Anna Kendrick and Emily Blunt make it out unscathed, because it's virtually impossible for them not to, and Chris Pine is surprisingly great, but the rest of the cast is mediocre to bad, including Meryl Streep. Even the production values feel inadequate, although that's because Rob Marshall has no idea how to frame most of the numbers. See it if you're a HUGE fan of the original of the trio of MVPS (Kendrick, Blunt, Pine) but everyone else can avoid it. Even the Blu-ray feels mediocre with a flat HD transfer. The audio mix is better.
Buy it here
Special Features
Never-Before-Seen Sondhein Original: "She'll Be Back" – Meryl Streep performs a song composed especially for the film, with an introduction by Director Rob Marshall.
"The Cast as Good as Gold" – The film's stars share the experience of taking this epic musical journey.
"Deeper Into the Woods" – Four pieces on the making of the film, including "The Magic of the Woods."
Filmmaker Commentary
Music & Lyrics – Jump directly to your favorite song from the movie.
"Unbroken"
I'm on the record as not being much of a fan of Angelina Jolie's disappointing true story of famous POW Louis Zamperini but my stance on it has softened a bit in the passing months as some critics and viewers tore it apart. Yes, the visual choices here don't exactly fit the story (which was my biggest problem with it), but they are nonetheless beautiful. And Jack O'Connell's work is without flaw. He's going to be a massive star. (So is co-star Domhnall Gleeson, by the way). "Unbroken" is one of those odd films that doesn't quite work and yet I'd still say you should see if just to support its star and the true story it tells. It's also an interesting film to watch in that most people can easily dissect where it went wrong. And it looks absolutely breathtaking on Blu-ray.
Buy it here
Special Features
Deleted Scenes
Inside "Unbroken"
Prison Camp Theater: "Cinderella"
Cast and Crew Concert Featuring Miyavi
Louis' Path to Forgiveness
Additional Feature: The Real Louis Zamperini
"The Hobbit: Battle of the Five Armies"
Speaking of films with visuals that pop in HD, the final entry in Peter Jackson's trilogy is also, in my opinion, the worst film that its notable director has made to date. I kept those feelings of bloat at bay with the presumption that Jackson would tie this all together with a final film that justified the expansion of the story into three films. If anything, the opposite happened. "Five Armies" commits so many narrative sins but the worst of them is that it relegates its title character to a bit player, forgetting that we simply do not care about Thorin in the same way we did Aragorn, Legolas, and Gandalf. The simple fact is that this story could have been cut to about 30 minutes and put on the end of the last film. It's ALL epilogue. Having said that, the Blu-ray is expectedly solid. Few studios do new theatrical better than WB. Maybe none. So fans of the film will admire it. I just wish I was one of them.
Buy it here
Special Features
Recruiting the Five Armies: See how each epic army was conceived and realized, with a focus on the characters that make them great.
Completing Middle-Earth: Rediscover the six-film saga from the vantage points of the characters, cast and filmmakers who spent 17 years bringing it to the screen.
"The Last Goodbye" Music Video
New Zealand: Home of Middle-Earth – Part 3
3 NEW TO VOD
Want to buy something brand new On Demand? Check one of these out.
"Faults"
"Growing Up & Other Lies"
"The Riot Club" (available Friday)
Source:: http://www.rogerebert.com/demanders/home-entertainment-consumer-guide-march-26-2014