Heather Mills Slams Ex-Husband Paul McCartney: He Has to Do Songs With Rihanna and Kanye West So People Remember Him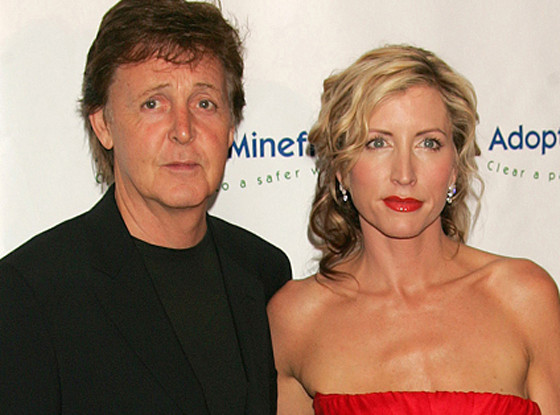 Jeffrey Mayer/WireImage
When Heather Mills appeared on The Late Late Show, there was one person she didn't want to talk about: Her ex-husband Paul McCartney.
"That umbilical cord was broken," she told host Ryan Tubridy, "He's married someone else and I agreed to come on the show so it wasn't all about Paul."
Well, for better or worse, we're going to be talking about The Beatles singer after this interview. While Mills wanted to promote her charity work for animals in need, she ended up taking a jab at her famous ex.
"If I go down the street, all I get is kids coming up to me. Half of them don't even know who he is," she said. "That's why he's got to do songs with Rihanna and Kanye West, so people remember [him]."
PHOTOS: These exes are a bit more friendly 
In January, RiRi surprised fans by releasing her latest single "FourFiveSeconds" featuring West and McCartney. The song even hit the Top 5 on the Billboard Hot 100.
Mills continued, "When I go down the street, it's 'Oh my god, you're a ski-racer' or 'You help the animals.' You know, I own the biggest vegan company in the world…"
While much of the attention surrounding Mills has centered around her recent marriage, the animal activist assures fans that her love story really isn't that unique. She simply fell out of love. 
PHOTOS: Most expensive celebrity divorces ever 
"This is just someone I fell in love with who to me was a normal guy that happened to write a few cool songs in the 60's and a few in 70's," she explained. "Like everyone that's a partner, you fall in love, you get married, you sometimes go 'Oh my god, this is completely wrong' and you wake up and move on. I once divorced somebody that I once loved and then I was abused for it."
Today, Mills is just focused on her philanthropic work and far less interested in talking about one famous ex.
"It's so boring," she said before laughing. "If you want me to fall asleep…If you had a pan of soup, I'd put my head into it." 
PHOTOS: More of your favorite celebs with their pets 
RELATED VIDEOS:
Source:: http://ca.eonline.com/news/635798/heather-mills-slams-ex-husband-paul-mccartney-he-has-to-do-songs-with-rihanna-and-kanye-west-so-people-remember-him?cmpid=rss-000000-rssfeed-365-topstories&utm_source=eonline&utm_medium=rssfeeds&utm_campaign=rss_topstories