Guinea tests Canadian-developed Ebola vaccine in hotspot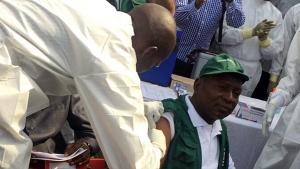 Until now, the experimental Ebola vaccine has only been offered to frontline workers and government officials in Guinea. (WHO)
People living in Guinea' s worst Ebola-affected region have started receiving the Canadian-developed experimental vaccine in the hopes it will quell spread.
The World Health Organization and Guinea's government plan to vaccinate about 10,000 people within a six to eight week period.
The field trial will vaccinate family members and other close contacts of recently infected patients to create a "ring of immunity" to stop the virus from spreading. Doctors used the same strategy of vaccinating those at greatest risk first to eradicate smallpox.
So far, the Canadian-developed Ebola vaccine has been given to some volunteer health-care workers.
"It is has been demonstrated that it has appropriate safety profile and it induces an antibody response in the bodies of the people who have been immunized, but we don't know if it works," said Dr. Marie-Paule Kieny, WHO's assistant director general. "This is the very last step."
The Ebola outbreak in West Africa has killed more than 10,200 people. The outbreak seems to be waning overall but the goal continues to be trying to reach zero cases as soon as possible.
Guinea had 95 new confirmed cases, the country's highest weekly total for 2015, WHO said separately Wednesday.
"Key response indicators for Guinea suggest that there remain significant challenges to overcome before transmission is brought under control."
Sakoba Keita, national coordinator of the fight against Ebola in Guinea, said combining control measures already in place with a safe and effective vaccine "will allow us to close this trying chapter and start rebuilding our country."
The first team arrived in a small village in western Guinea's Coyah prefecture on western Guinea, a viral hotspot, on March 23, where WHO says they received an excellent response from the community.
Kieny said so far people in the village are willing to be vaccinated.
Previously, people in Guinea have attacked health-care workers with stones and machetes amid rumours that they were plotting to contaminate them with the virus.
"Someone arriving with a syringe in their hand might be taken as confirmation of all the rumours going around. It's going to be very complicated," said Jerome Mouton, Guinea country director for Doctors Without Borders.
The medical charity, which is helping to coordinate and fund the trial, said participation is voluntary, confidential and free.
WHO is the sponsor of the study. Results could be available as early as July 2015.
The trial is also funded by the Research Council of Norway through the Norwegian Institute of Public Health; the Canadian government through the Public Health Agency of Canada, Canadian Institutes of Health Research, International Development Research Centre and Department of Foreign Affairs, Trade and Development; and WHO, with support from the Wellcome Trust, United Kingdom. 
Source:: http://www.cbc.ca/news/health/guinea-tests-canadian-developed-ebola-vaccine-in-hotspot-1.3009347?cmp=rss