Get Your First Close-Up Look at the Epic Costume for Reverse Flash on The Flash!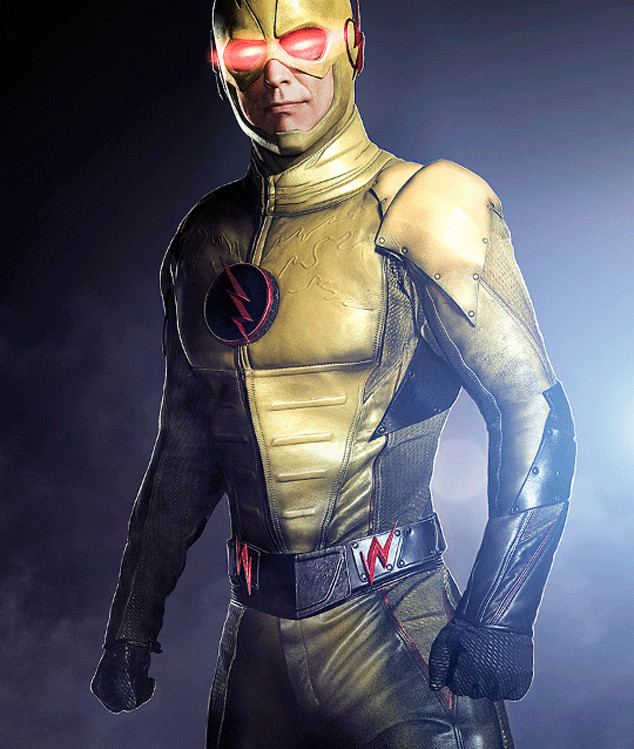 CW
Feast your eyes upon The Flash's ultimate nemesis…the Reverse Flash!
The CW's superhero series has been teasing the supervillain all season long, first by showing a yellow streak, and then revealing that Dr. Harrison Wells (Tom Cavanagh) is in possession of the yellow suit, suggesting that Barry's (Grant Gustin) mentor and friend is actually the man who killed his mother all those years ago.
Sure, Wells has been acting super sketchy, and is currently lying about needing to use a wheelchair (not only can he walk, he's also got the same super speed as Barry!), but does that mean that he's definitively the Reverse Flash?
CLICK: Get your first look at Supergirl's new costume!
Not so fast, Gustin told E! News.
"There's still a lot to be revealed and there's still a lot of twists. There's a lot else that goes into it," Gustin said. "There's the Eddie Thawne [Rick Cosnett] business, and he's involved in a way that nobody's going to expect him to be involved. Even Harrison is involved with the Reverse Flash in a way that you would have never expected him to be involved. When I heard the twist, it blew my mind. Harrison is involved in a way you're not going to see coming. It's not as straightforward as Harrison is Reverse Flash. That's not what's going on."
We'll get more answers when The Flash returns this Tuesday at 8 p.m. on The CW.
In the meantime, check out the epic new close-up photo of the Reverse Flash (Dr. Wells, is that you under that hood?!) above now, and click through the gallery below to see where the yellow and black super suit ranks among the best and worst TV superhero costumes of all time!
CLICK: We ranked all best and worst TV superhero costumes from super tragic to super epic!
RELATED VIDEOS:
Source:: http://ca.eonline.com/news/635473/get-your-first-close-up-look-at-the-epic-costume-for-reverse-flash-on-the-flash?cmpid=rss-000000-rssfeed-365-topstories&utm_source=eonline&utm_medium=rssfeeds&utm_campaign=rss_topstories