General managers honouring Senators' Bryan Murray for lifetime in hockey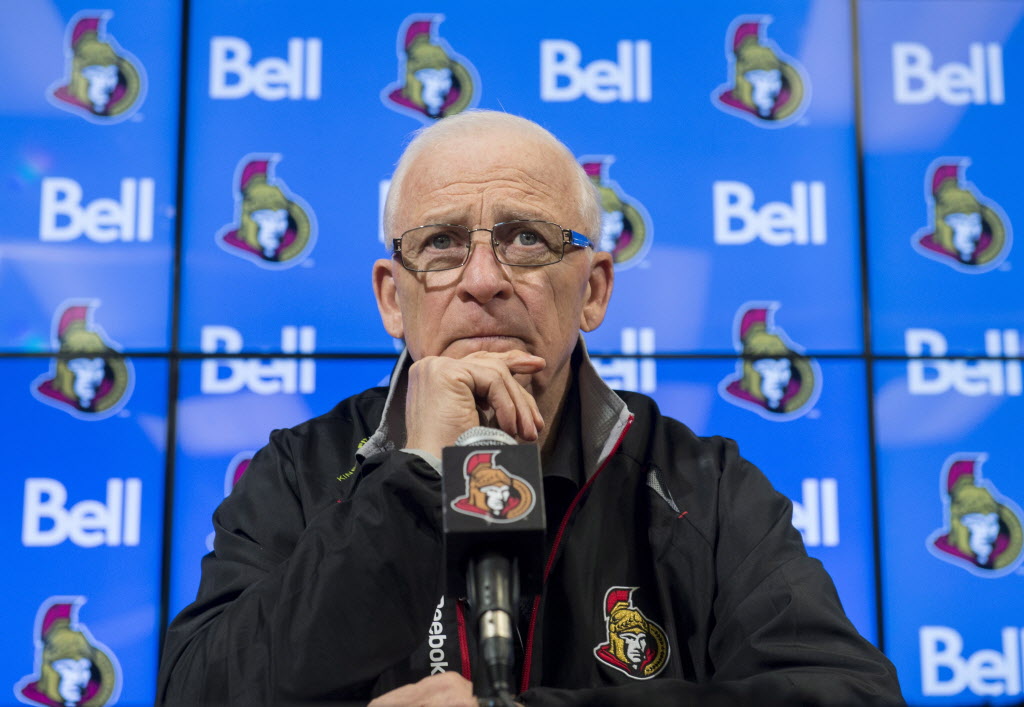 BOCA RATON, Fla. — As he undergoes chemotherapy to ward off Stage 4 colon cancer, Bryan Murray is still plugging away as general manager of the Ottawa Senators and may even be back next season.
While he's still on the job, his fellow general managers are making sure they show their appreciation for Murray's courage and his contributions to hockey by honouring him Monday night.
"He's serving a higher purpose by everything that he's doing in this case," good friend David Poile of the Nashville Predators said. "He's doing his job, which is his purpose, but he's also serving the greater purpose for the big picture on the cancer in terms of telling his story. You know it's going to have some positive effects down the line for a lot of people."
Talk to people around hockey and no one says a bad word about the 72-year-old Murray, who has done it all in coaching and management.
A high school teacher by trade, Murray started coaching with the Canadian Junior Hockey League's Pembroke Lumber Kings, won a Memorial Cup with the Western Hockey League's Regina Pats and worked with the American Hockey League's Hershey Bears before getting into the NHL in 1981.
In the NHL, Murray worked in coaching and executive capacities for the Washington Capitals, Detroit Red Wings, Florida Panthers, Anaheim Mighty Ducks and Senators. Along the way, he helped out the careers of current GMs like Poile, Chuck Fletcher of the Minnesota Wild and nephew Tim Murray of the Buffalo Sabres, as well as former GMs like Doug MacLean.
"He's been an amazing mentor to a lot of people," MacLean said in a phone interview Saturday. "There's a lot of guys in that room that have worked for him. I think of Chuck and Timmy. Chuck Fletcher and Timmy Murray grew up in the game because of Bryan."
Murray is 10th on the all-time wins list among coaches with 620 and took the Senators to the 2007 Stanley Cup final. He managed the expansion Panthers to the Cup final in 1996.
One thing he always told his colleagues is that coaches and players should get along.
"Players always have good things to say about Bryan," Poile said. "He has a good way of communicating: Sometimes it was with a sense of humour, sometimes a little bit of sarcasm or what have you. But the point is he got to them. He got them to play harder, better, to know what it was to be a pro and to motivate them when they needed to be motivated."
Former NHL defenceman Luke Richardson, who now works with Murray as coach of the AHL's Binghamton Senators, only played for him for a month. But Richardson fondly remembers the authority with which Murray delivered messages.
"He made people feel good, but he also got his point across," Richardson said. "He does a good job of keeping the game a game and making sure people are enjoying it, but also at the same time it's a business and he pushes people as hard as he can."
It's fitting he's being recognized at a GMs meeting, given the role as the voice of reason he has filled over the years.
"(I remember) the calm and the sensibility he brought to many situations: Discussions on rule changes, discussions on the way the game is to be played and how he always had a sensible, thoughtful approach to it," said MacLean, who was GM of the Columbus Blue Jackets from 1998 to 2007.
Over the past 15 or so years, GMs have honoured someone at their annual March meeting but until now, it was always a former executive. Larry Pleau was honoured in 2014 and Pat Quinn the year before.
Murray is getting his due night now.
"It shows the respect they have for him," MacLean said. "It's the first time I can ever remember it happening. It just means what he means to the league and what he means to the guys like (NHL executive vice president) Colin Campbell and the guys that make these decisions."
© Copyright (c) Postmedia Network Inc.
Source:: http://www.canada.com/sports/General+managers+honouring+Senators+Bryan+Murray+lifetime+hockey/10894057/story.html