Flames hang onto third place in Pacific with win over Avalanche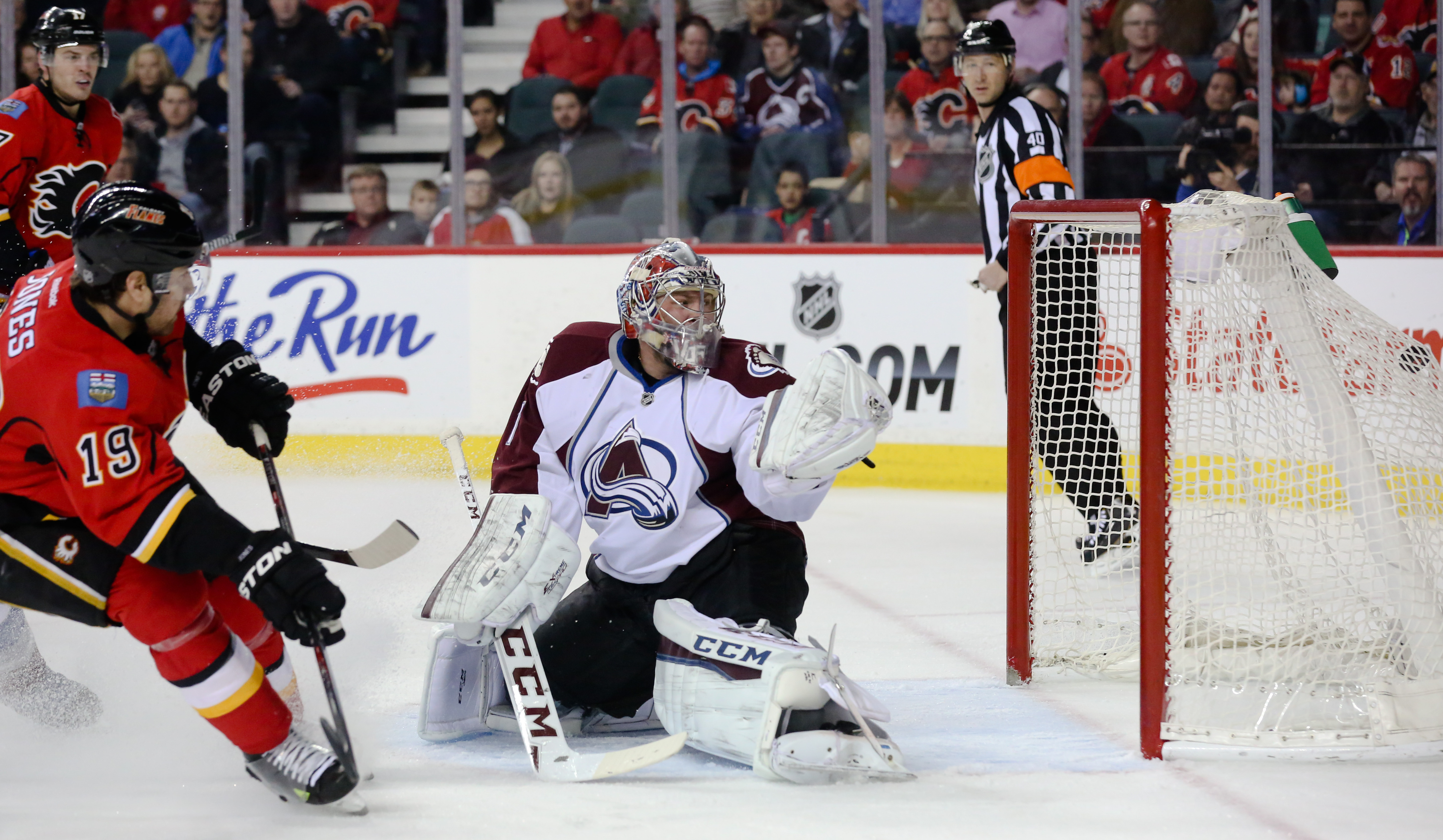 Aryn Toombs/ Calgary Herald CALGARY, AB –MARCH 23, 2015 — Clagary Flames right winger David Jones scores on Colorado Avalanche goalie Semyon Varlamov at the Scotiabank Saddledome in Calgary on Monday, March 23, 2015. The Calgary Flames lead the Colorado Avalanche, 2-1, in regular season NHL play. (Aryn Toombs/Calgary Herald) (For Sports story by TBA) 00057790A SLUG: 0323 Flames-Avalanche
By Laurence Heinen
CALGARY — Lance Bouma and David Jones had a goal and an assist each to lead the Calgary Flames to a 3-2 win over the Colorado Avalanche on Monday.
Jiri Hudler also scored for the Flames (40-27-6), while goalie Kari Ramo made 25 saves to record his 15th win of the season.
Calgary held onto third place in the Pacific Division ahead of the Los Angeles Kings (35-23-14), who skated to a 3-1 road win over the New Jersey Devils earlier on Monday.
Gabriel Landeskog had a goal and an assist for the Avalanche (33-27-12), while goalie Semyon Varlamov finished with 23 saves. Alex Tanguay also scored, while Ryan O'Reilly had two assists.
Ramo made a nice save to turn aside a slapshot off the stick of O'Reilly six minutes into the first period before Markus Granlund picked up the puck and hit Bouma in stride with a pass.
Bouma then broke into the Colorado zone on a two-on-one with Jones, who took a pass from his linemate and fired a wrist shot into the net over Varlamov's outstretched glove hand.
The Avs tied things up at 17:46 of the first when Tanguay swatted a pass from Landeskog past Ramo.
The Flames then went up 2-1 with 16 seconds left in the first when Dennis Wideman fired a sharp-angle shot towards the Colorado net that deflected off Hudler's foot and past a stunned Varlamov.
During an early power play in the second period for the Avs, Ramo made a nice glove save to stop a heavy slapshot fired his way by Jarome Iginla.
Colorado had a few more good chances in the second to pull even with the Flames, but both John Mitchell and Tyson Barrie rang shots off the post behind Ramo, who later made a nice pad save to stop a shot by Matt Duchene from in tight.
Calgary added an insurance marker at 8:40 of the third when Bouma tipped T.J. Brodie's point shot past Varlamov before Landeskog converted a feed from O'Reilly to round out the scoring just over two minutes later.
Notes: Jones scored 70 goals and added 56 assists in 272 games for the Avalanche between 2007 to 2013 before being traded to the Flames along with Shane O'Brien for Tanguay and Cory Sarich. … Iginla played in his 1,382nd career NHL game to tie Trevor Linden for 39th place on the all-time games played list. He needs to play just three more games to move past Larry Robinson and into 37th spot on the list.
Source:: http://www.canada.com/sports/hockey/Flames+hang+onto+third+place+Pacific+with+over+Avalanche/10913808/story.html