Flames climb back into a playoff position with a 5-2 win over Predators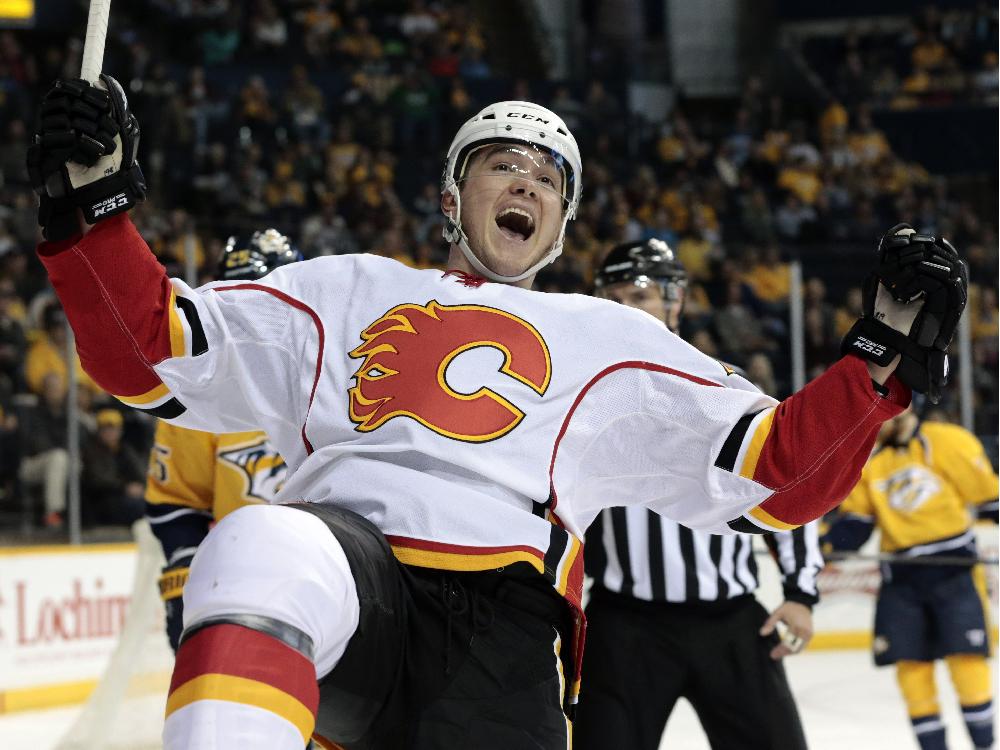 When Michael Ferland snapped the puck past Carter Hutton in the second period, the winger pumped his fist and the entire Calgary Flames bench let out a collective sigh.
And, likely, so did everyone back home.
Not only was it the rookie winger's first National Hockey League goal after a tumultuous start to his professional hockey career — and, to boot, two days after his one-year anniversary of sobriety — it put the travelling soldiers on the right track to Sunday's eventual 5-2 victory at Nashville's Bridgestone Arena.
With six games remaining on the 2014-15 schedule and on the back of Friday's 4-2 loss to the Minnesota Wild to open the five-game road trip, the Flames gained a much-needed two points to pull ahead of the Los Angeles Kings (37-24-14) for third in the Pacific Division and back into a playoff spot.
"We're at the point where every game is a playoff game," said Flames forward Matt Stajan. "Our mindset is just that day and that game. Obviously we were disappointed with Friday and had a chance to respond and we did.
"We're right back in the race. It was a great game, everybody brought it and that's what we need."
Sure, the Predators had sat three main pieces of their lineup — left wingers Eric Nystrom and James Neal along with defenceman Shea Weber.
Sure, they sat Pekka Rinne and started their backup netminder Carter Hutton.
And, sure, with Saturday's 4-3 win over the Washington Capitals, they had secured a post-season berth with a 47-21-8 record and 102 points.
But given all of those factors, they still weren't in a charitable mood — even when they fell behind 4-1 heading into the third period.
On his own bobble-head night, Seth Jones pulled the Predators within two halfway into the third period when he sent a hard shot flying over Jonas Hiller's blocker.
The Flames, however, hung on.
"They're still fighting for first place," Stajan said. "Obviously, when you play a team back-to-back, you want to jump on them early.
"They really poured it on at the end, but we stayed composed, got some saves, and got the two points — that's all that matters."
They were in a good spot after Ferland put them up 3-1 with 6:57 gone in the second period.
The 22-year-old, who had publicly admitted that he had gotten sober a year ago Friday, tapped in a great pass from Drew Shore behind Hutton's net and snuck it by his right pad.
"It felt awesome," said Ferland, sporting the team fireman's hat. "I was always itching to get that first one and imagined what it would feel like. I feel like I have 200 pounds off my back now."
A timely goal for Ferland who, after sharing his personal battle with alcoholism on Friday, didn't think a single NHL game would be possible.
"It's a great week for Michael Ferland," said Flames head coach Bob Hartley. "Looking at the personal side of things and on the hockey side, this is a great young man. He has so much to offer.
"Once he figures out pro hockey, he's going to be a big part of us."
Calgary's leading scorer Jiri Hudler came through and put the visitors ahead when Hutton couldn't hang onto the slick Czech winger's shot and it dribbled through his legs.
They also built momentum on their only power play of the game when Calle Jarnkrok was caught for cross-checking against Mason Raymond.
The Flames' second unit was impressive, particularly on a sequence which saw Raymond alone on a scoring chance by himself in front. In total, Raymond had a team-leading six shots on net.
With two minutes left in the second period, they also survived a Nashville power play when Dennis Wideman was whistled down for a slash on Colin Wilson in Calgary's zone.
Truth be told, the Flames didn't get off to a great start.
Six minutes into the game, they had a chance to set the tone when Hutton tried to glove down Joe Colborne's shot off Mason Raymond's rebound. But the puck slid by the open net instead.
Nashville would turn around and score shortly after when Roman Josi's whistled one over Jonas Hiller's glove.
Lance Bouma, who also had an empty netter to seal the deal, tied it less than three minutes later, chipping the puck by Calder candidate Filip Forsberg and going five-hole.
Before the first period was over, the Flames took a 2-1 lead thanks to some good work by Johnny Gaudreau to keep the puck in the zone and a shot on net from Kris Russell.
The Calgary defender would get credit for the visitor's second goal which went off Nashville centre Paul Gaustad's skate and in.
Now, the Flames (41-28-7) try to keep the momentum going in Dallas. They'll play the second-half of back-to-back games Monday at American Airlines Center.
"Another challenge," Hartley said. "Win or lose, you have to wind up the big machine again and (Monday) … it's our situation. We can't afford to take a night off. We're challenging the players to win every game right now.
"We're going to put our faith in the players and we'll see what (Monday) brings."
kodland@calgaryherald.com
Twitter.com/KristenOdlandCH
Source:: http://www.canada.com/sports/hockey/calgary-flames/Flames+climb+back+into+playoff+position+with+over/10930105/story.html