Fallen Four: Mayerthorpe to commemorate 10th anniversary of town's darkest day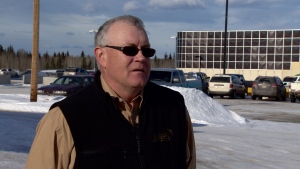 Albert Schalm was mayor of Mayerthorpe on the town's darkest day.
"You just never forget where you were, and I remember very clearly I was at work and the call came in. First there was an incident with the RCMP, and that's really all we knew."
Schalm had only been mayor for a few months but soon found himself in the centre of the media spotlight.
Albert Schalm was mayor of Mayerthorpe in 2005 when he suddenly found his town in the centre of the media spotlight.
Being mayor of a town of 1,400 people wasn't a full time job. So Schalm also worked as a ranch hand. He was at the farm when he saw at least four police cruisers scream by with a blur of flashing lights.
There was still no information about what was happening. But with the town now inundated by media calls, Schalm headed to the town office around lunchtime.
"My phone didn't stop ringing that day it happened," he said. "Interview after interview, and the phone would ring and ring and ring. The prime minister called at one point and offered his condolences to the community. That was Prime Minister Paul Martin at that time."
The shootings
It was afternoon on March 3, 2005, when the RCMP confirmed that four officers had been shot and killed on a farm owned by James Roszko.
The officers were investigating a marijuana grow operation and "chop-shop" in a Quonset shed on Roszko's property. At some point he snuck back to the farm and ambushed the Mounties with a high-powered, semi-automatic rifle.
Constables Brock Myrol, 29, Leo Johnston, 32, Peter Schiemann, 25, and Anthony Gordon, 28, all died from gunshot wounds.
After shooting all four, Roszko walked out of the Quonset with a hunting rifle slung across his back, a pistol in his belt and a semi-automatic rifle in his hands.
He was taken by surprise when he saw another RCMP officer still at the scene.
Roszko got off two more shots, and the officer returned fire. Corp. Stephen Vigor, who has since retired, hit Roszko once on the left hand and once on the right leg, breaking a bone in his thigh. Roszko staggered back into the Quonset where he killed himself with a shot in the chest.
It fell to RCMP assistant commissioner Bill Sweeney to announce the shocking news that was broadcast by media around the world.
"The loss of four police officers is unprecedented in recent history in Canada," he said that day. "I'm told you have to go back to about 1885 in RCMP history, during the Northwest Rebellion, to have a loss of this magnitude. It's devastating."
Margaret Thibault, president of the Fallen Four Memorial Society, helped organize the candlelight service to mark the 10th anniversary.
Margaret Thibault knew all of the officers now known as the Fallen Four.
"Ten years later, I still remember them, I still miss them," she said.
Thibault is president of the Fallen Four Memorial Society, which built a park and memorial in the honour of the officers who were killed.
The park opened in 2008 after a three-year fundraising campaign by volunteers. About 10,000 people visit each year.
"People wanted to do this, to be on board to help grieve. It helped with everybody's grief. It helped us give a purpose back to the community, and to ourselves. And it was something we could do that was so positive. Every part of the park has a reason for being there."
People have been asked to bring candles to the Fallen Four memorial park at 6:30 p.m. on Tuesday, for a service Thibault said will be "low key."
"There will be candle lighting, there will be a salute to the 10 years, and we will all be out there with our candles around the circle."
Artist Rosemary Luksha has painted a picture of the Fallen Four Memorial Park to mark the 10th anniversary.
A special painting of the park and the statues of the four officers will be unveiled at the memorial. It will hang inside the building there, along with hundreds of other tributes from across Canada, and around the world.
Rosemary Luksha is the artist. Her daughter is married to a Mayerthorpe RCMP officer.
"I just did it because I love my daughter and I love my son-in-law, and what I have met of the community here. They're a welcoming and supporting community. They're lovely people, and I was honoured to be asked."
In her work, Luksha tried to capture the emotion she feels when she visits the park.
'I feel reverence'
"I feel reverence when I go there," she said. "It's beautiful, and I hope that's what the painting communicates, a sense of reverence and respect and honour."
Inspector Gibson Glavin with Alberta's "K" Division said every member of the RCMP will remember where they were when they heard that four officers had been killed.
"It was a big impact to us. Also to the community and the fact people throughout Canada and even internationally were shocked as well."
The days that followed were tough ones for the police, he said.
"The surrounding detachment and the actual detachment of Mayerthorpe, those members were provided with relief immediately. We have the capacity to bring additional police officers into an area any time there might be an overburden of work, or something like this, where it would be very difficult for members within that working group to carry on to the level Canadians should expect they would get from the RCMP."    
But Glavin said officers drew upon their training to work through their grief.
"All police officers, and certainly the RCMP, we see terrible things frequently and we always have to carry on with our professional duties, no matter what."
Former mayor Albert Schalm plans to attend the candlelight service. He sees it as another event that shows how people in Mayerthorpe have pulled together since the shootings.
"It's not something you want to be remembered for. But in a lot of cases, I think, Mayerthorpe has taken something that was a tragedy and we've taken the good out of it and put the good forward. And I'm very proud of the fact that we could do that."
An aerial photograph taken in March 2005 of James Roszko's farm where four RCMP officers were killed.
Source:: http://www.cbc.ca/news/canada/edmonton/mayerthorpe-set-to-commemorate-four-rcmp-officers-killed-on-duty-1.2976259?cmp=rss