Expedition Polaris team on 2,000 km Yukon trek to learn First Nations culture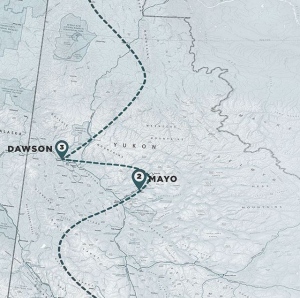 Two European adventurers are using their long-distance trek through the Yukon to help teach kids from their countries about nature and First Nations culture. 
"Kids back home in big cities like Paris and London, they don't live with the nature anymore and the gap between them and the nature is just way too big now to catch up," said Hendrik Kersten. 
Kersten and Matt Lazenbury, from France and Britain respectively, left Whitehorse on February 14 pulling sleds loaded with camping gear and food. They plan on walking 2,000 kilometres to Inuvik, N.W.T., over three months.  
Expedition Polaris arrived in Mayo a few days ago. (expedition-polaris.com)
The duo, who collectively are "Expedition Polaris," arrived in their first community earlier this week since leaving Whitehorse. They are spending a few days in Mayo, learning traditional skills with the Na-Cho Nyak Dun First Nation. They will do the same in each community they visit, filming as they go.
Outdoor classroom
Altogether, Kersten and Lazenbury are visiting and gleaning information from five communities to share back in European classrooms. 
"We do some talks and workshops in schools to explain to kids how it is that you can still live very close to nature," said Kersten. "And we take the example of the First Nation communities, First Nation people living off the land."
Kersten has previous experience in the Yukon. In 2012, he led a 34-day expedition and spent three months at a musher's camp. 
The pair's next stop is Dawson City. Based on the time estimates on their website, they should arrive approximately one week after leaving Mayo. 
Source:: http://www.cbc.ca/news/canada/north/expedition-polaris-team-on-2-000-km-yukon-trek-to-learn-first-nations-culture-1.3004040?cmp=rss