Emma Génier heads off for her first Paris casting calls.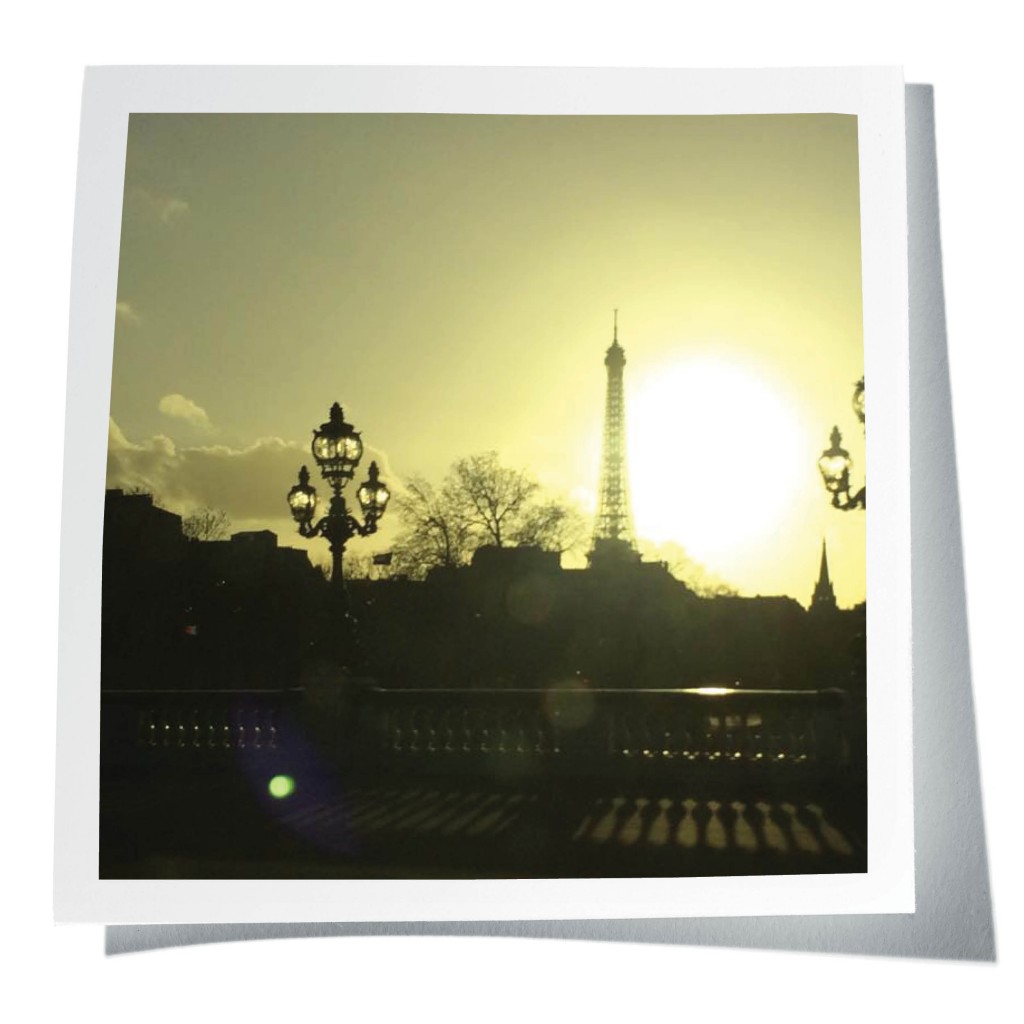 By Emma Génier
We arrived at the "Gare de Lyon" train station in Paris in a beautiful sunny morning after taking the Eurostar overnight from Milan. A driver was waiting for me with my name written on his iPad. How cool!
Paris is just as I have imagined it, and as I had seen in the movies. The landscapes are breathtaking and every corner smells of pastries. On my way to my agency (Elite Paris) I saw the Eiffel Tower and we passed by Les Champs Elysees.
This is my first season modeling[1]—and my first time meeting them—so I was a little nervous! I got my new portfolio (it has some photos from my beauty story in Elle Canada[2]) and my comp cards, and I then was ready to leave for my eight castings.
What happened next?
To get ready for the day ahead, here's what I needed:
• a pair of black high heels
• my portfolio and my comp cards
• my cellphone with Internet
• money (euro)
• portable iPhone charger
• my favorite book to entertain me during the waiting time
• healthy snacks (almonds, vegetables with hummus, apples, bananas) and a bottle of water.
It's also important to remain optimistic and to be very patient, because you never know if you will wait one minute or two hours at a casting. I ran into Jenna (Castilloux) at one of the casting, another Quebecois model and friend of mine. It was so nice to see a familiar face in the sea of models!
At most of the castings they have me walk a few times for them and sometimes they ask me to try a few pieces of clothing. At one of them they gave me some beautiful shoes to wear but they were impossible to walk in[3]. I gave it my best try but it wasn't easy, and sadly I didn't confirm that show. It was a "shoe test!"
After all of my castings, I returned to my hotel. Like a lot of hotels in Paris, the elevator is so tiny that you can only fit one person with a suitcase at one time. It's a little claustrophobic!
Over all, a great first day in Paris! Let's see what tomorrow brings and whether if those castings led to any runway bookings. Fingers crossed.
READ MORE
Follow Canadian model Emma Génier on her debut catwalk season!
Canadian model Emma Génier is owning the Fall 2015 runways
Fashion Week Fall 2015: The Canadian models owning the runways[4][5][6]
Similar Posts:
You might also like
References
^ my first season modeling (http)
^ some photos from my beauty story in Elle Canada (www.ellecanada.com)
^ impossible to walk in (www.ellecanada.com)
^ Follow Canadian model Emma Génier on her debut catwalk season! (www.ellecanada.com)
^ Canadian model Emma Génier is owning the Fall 2015 runways (www.ellecanada.com)
^ Fashion Week Fall 2015: The Canadian models owning the runways (www.ellecanada.com)
Source:: http://ellecanada.com.feedsportal.com/c/34164/f/621200/s/43fdb6a7/sc/10/l/0L0Sellecanada0N0Cblog0C20A150C0A30C0A30Cemma0Egenier0Eheads0Eoff0Efor0Eher0Efirst0Eparis0Ecasting0Ecalls0C/story01.htm