Edmonton's back alleys taken off back-burner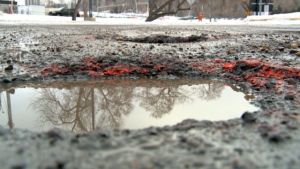 Chronically bumpy and pockmarked back alleys might get a much needed facelift in a few years, according to Coun. Andrew Knack.
The overall condition of back alleys was given a 'D' grade by city staff in a report going before the transportation committee on Wednesday.
Part of the problem, according to the report, is that potholes found in back alleys are low on the priority list for repairs. 
For example, potholes reported this spring will likely not be repaired until the fall at the earliest.
Knack said he's heard from people who have been reporting the same pothole behind their house for three years.
"That's unacceptable," he said.
The report notes some of the city's alleys need to be completely reconstructed.
Knack said he wants alley reconstruction to be part of the neighbourhood renewal program, which fixes streets and sidewalks in Edmonton neighbourhoods. The report says any additional money needed to repair the potholes would come from the neighbourhood renewal budget. 
"I think that's probably the long term solution to make sure our entire roadway network, which would include our back-alleys, is at the same standard," he said.
Potholes on arterial and collector roads are given top priority for repairs, which means there are few resources left to fill those in back alleys according to a report going before council on Wednesday. (CBC)
If council votes to devote money from the neighbourhood renewal program towards fixing back alley potholes the earliest money could be used to fill the holes would be 2019 as money in the fund is already tied up in projects until 2018. 
In the meantime, Knack said Edmontonians deserve to know the city's timeline on when back alley potholes will be fixed in their area. 
"If you were to call and notify our department that you had a pothole in your back alley, I would expect that by the end of the repair season, which is October, that it would be dealt with," he said.
Councillors on the transportation committee will discuss the plan to fix back alley potholes on Wednesday.
Source:: http://www.cbc.ca/news/canada/edmonton/back-alley-potholes-to-be-fixed-as-part-of-neighbourhood-renewal-1.2989837?cmp=rss