Ebertfest 2015: Roger, You Would Approve!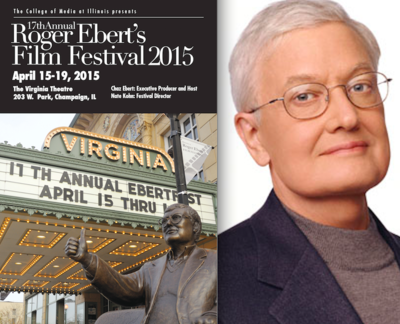 Dear Roger:
Almost two years ago today in March 2013, we were sitting in your hospital room putting the final touches on the fifteenth edition of Ebertfest. I noticed that you had momentarily put aside talk of whether you would attend the festival and you were more focused on the order in which we would present the films and programs. You insisted that we do it just as you laid it out. At the time, I didn't think anything of it, because I expected you would be there, either in person or via satellite. I did notice that you wanted us to start with a big group on stage singing the Illlinois song, and that we were to play Orson Welles' "Chimes at Midnight." You programmed "Ballad of Narayama," about the Japanese village where the elders went to the top of the mountain to meet the gods when they were 70 years of age. It didn't occur to me that you were also 70.
You planned Terrence Malick's contemplative "Days of Heaven" and invited Oscar-winning cinematographer Haskell Wexler to talk about the making of it. Your special guest was Tilda Swinton with her movie "Julia," which she had promised you she would return for. Paul Cox's film "Vincent" was to be shown, although at the last minute he told you he was likely too ill to come because of problems relating to his liver transplant. But you said it was important to show the film anyway and to listen to the letters that Vincent Van Gogh wrote to his brother Theo. And you were so excited about sharing "Blancanieves," the supremely beautiful and twisted Andalusian version of Snow White by gifted filmmaker Pablo Berger. We opened with a short film by Far Flung Correspondent, Grace Wang, about a woman mourning the loss of her deceased lover. In retrospect, I realize that you didn't expect to be there. And that you were creating a certain mood by populating the festival with people you believed would be simpatico to the overall atmosphere of our beautiful little film festival. Family….
This year as we approach the second anniversary of your transition and the third Ebertfest without you, we decided to bring it all back to the character studies that you loved so much. The very reason you wanted to host a film festival in your home town in the first place was to shine a light on gems that deserve to be discovered and praised by bigger audiences. The films that tell stories about something, about who we are and why it is important to have empathy for each other. And you loved showing them in our gorgeous movie palace, the Virginia Theater, projected on the mega screen by the improbably named James Bond. We invited back some of the filmmakers you admired, like Ramin Bahrani and James Ponsoldt. Roger, you would love this line-up!
We are opening with Jean-Luc Godard's silent opus in 3D, "Adieu Au Langage" ("Goodbye To Language"). Some have complained that you were against 3D films, but we know that you were against 3D when it was used only as a gimmick to charge more money, or when it wasn't done well. Indeed you praised 3D in "Avatar", "Hugo" and "Cave of the Forgotten Dreams." I daresay you would find Godard's use of 3D here refreshing. It creates 3D imagery that adds to the movie-going experience. And actress Heloise Godet will experience it with us.
We are also presenting a tribute to Harold Ramis, that Renaissance man who was as meticulous about other aspects of his life as he was about building his comedies. The beloved director and actor passed away in February 2014. Displayed at his funeral was a violin that Harold had made by hand and taught himself to play. It was on a table. But Harold had to first teach himself to build the table in order to have a surface on which to construct the violin. That's the kind of man Harold was. We will welcome Harold's widow, Erica Ramis, and Trevor Albert, the producer who worked with Harold on several of his masterpieces, including "Groundhog Day," which has been adopted by a Buddhist organization as a template for life (reliving it over and over again until we get it right).
Ramis also wrote the scripts for such classic hits as "Animal House," "Stripes" and "Ghostbusters," and directed comedy classics including "Caddyshack" and "Analyze This." We will celebrate his life with never-before-seen clips and other remembrances from surprise guests. One of the last conversations you and Harold had was about the transcendent nature of Charlie Kaufman's movie "Synecdoche, New York." You both saw a higher meaning in every frame. We get to glimpse some of the inner workings of Ramis' mind when we analyze the profound life lessons he secretly embedded in some of his most entertaining movies.
On the heels of gaining a well-deserved reputation as one of the hottest tickets on the festival circuit, James Ponsoldt's "The End of the Tour" will screen at Ebertfest, marking the director's second visit following his appearance a few years ago with actress Shailene Woodley for his film much-admired by you, "The Spectacular Now." "The End of the Tour" features a richly anticipated performance by Jason Segel as David Foster Wallace, and co-stars Jesse Eisenberg, Anna Chlumsky and Joan Cusack.
The highlights in Segel's career are numerous: starring in Judd Apatow's cult classic sitcom, "Freaks and Geeks"; earning raves for his boldly comedic nude scene in "Forgetting Sarah Marshall"; crooning the Oscar-winning tune, "Man or Muppet," in 2012's hit, "The Muppets"; and winning the hearts of viewers during all nine seasons of "How I Met Your Mother." Segel can now add another achievement to this formidable list, when he accepts the Golden Thumb at this year's festival, along with Ponsoldt.
Another returning guest this year is Ramin Bahrani, who dedicated his latest film, "99 Homes," to you. Michael Shannon, Andrew Garfield and Laura Dern headline the impressive cast of this timely drama, a film you would have loved to review.
After all, it was you who declared Bahrani "a great American director," and indeed he has earned multiple awards, including the FIPRESCI prize in Venice for "The Motel Life," pairing Stephen Dorff and Emile Hirsch as brothers on the run. The film also stars Dakota Fanning. We look forward to welcoming Alan to our festival.
Two of this year's acclaimed foreign imports tackle female identity in exhilarating fashion. Pawel Pawlikowski's "Ida," which won this year's Best Foreign Film Oscar, charts the inner transformation of a young nun (stunning newcomer, Agata Trzebuchowska) on the eve of taking her vows, as she learns the startling identity and disturbing fate of her parents.
The film's gloriously textured, Oscar-nominated cinematography by Lukasz Zal and Ryszard Lenczewski demands to be seen on the biggest screen possible.
Céline Sciamma's "Girlhood" stars Karidja Touré in a revelatory debut performance as a French immigrant teen struggling to break out of her bleak surroundings while coming of age in an oppressive environment. This film is generously sponsored by The Champaign County Alliance For the Promotion of Acceptance, Inclusion & Respect. Their sponsorship helps us present movies that challenge preconceived notions about other people, whether based on race, gender, creed or physical or mental health.
Roger, I can't wait to present "A Pigeon Sat on a Branch Reflecting on Existence," the final film in revered Swedish filmmaker Roy Andersson's trilogy "on being a human being." You and I were absolutely enthralled by his "Songs from the Second Floor," which we previously hosted at Ebertfest. Andersson's longtime collaborator, Johan Carlsson, has worked for 15 years on the director's ambitious productions, and will be joining us onstage for what is sure to be an illuminating post-film discussion. The last time we invited him, I think he was deterred by Icelandic ash in the cosmos.
Another unique experience will be Damián Szifrón's Oscar-nominated "Wild Tales," which takes the form of absurdist vignettes, tracing seemingly ordinary events as they gradually erupt into chaos. This is one of many recent films from Sony Pictures Classics that has received praise and accolades from audiences around the globe. A cherished guest, the company's Co-president, Michael Barker, will be present for the screening, along with Argentine actress Julieta Zylberberg and casting director Javier Braier. As an aside, Michael Barker and Tom Bernard were recently presented with the French Legion of Honor.
Knowing your love of documentaries, we scheduled two must-see selections. Film critic Godfrey Cheshire, will be presenting his 2008 portrait of Southern plantation life, "Moving Midway," which was chosen as one of the year's 10 best films by the L.A. Weekly and New York magazines. In addition to writing for RogerEbert.com, Cheshire's work has been featured in The New York Times, Variety, Sight & Sound, Film Comment and Cineaste, among other publications. Cheshire's film is topical in so many ways: about race relations, about the anniversary of "Birth Of A Nation," about the meaning of the words "home," and "plantation" and how those words can mean different things to a white descendant and a black descendant of the same relatives who once lived in the Midway Plantation. We are pleased to welcome Godfrey Cheshire, and by satellite, his cousin, Dr Robert Hinton. You wrote movingly about this film, and at this time in our nation with race relations being what they are, it will be good to take a step back and examine just how we are related, and what makes us who we are. Where exactly is home.
The other documentary is the very charming "Seymour: An Introduction," directed by Ethan Hawke. It introduces us to Seymour Bernstein, a classically trained pianist who struggled with how to honor his art when it conflicted with the anxiety in his life. It raises questions about the role and responsibility of the artist to himself, to the audience, and to his fellow travelers. Ethan started the project because he questioned whether his life and art had the authenticity he desired. He did a wonderful job coaxing the philosophy out of Seymour as Seymour demonstrated his gift for coaxing the best performances out of his students. Seymour Bernstein will be with us in person conducting a masterclass. Even in the movie, his music transported me. Rumi Scholar Andrew Harvey put Hawke and Bernstein together, and I am hoping he will join Seymour on stage after this beautiful closing film.
You would rejoice at the news that the Alloy Orchestra is back for their 14th performance at Ebertfest. From the first time we saw them perform at Telluride, you said this is the way silent films should be shown. They will provide the live score accompaniment for Rudolph Valentino's 1926 swan song, "The Son of the Sheik," screening here in a newly restored print. This was Valentino's last film role before his untimely death, and it is said to be his best performance ever. I look forward to welcoming back Terry Donahue, Ken Winokur and Roger Miller.
We previously announced that the festival will welcome two Oscar nominees, actor/filmmaker Chazz Palminteri and producer Jon Killik, for a screening of their 1993 crime drama, "A Bronx Tale." Palminteri based the film's script on his semi-autobiographical play, and co-stars along with Robert De Niro, who made his directorial debut with this picture. In your 4-star review, you wrote that the film "is filled with life and colorful characters and great lines of dialogue, and De Niro […] finds the right notes as he moves from laughter to anger to tears."
Jon Killik is one of my favorite producers. Not only did he produce most of Spike Lee's films, and those of other creative indie filmmakers, like Oscar-winner Alejandro González Iñárritu ("Biutiful"), Bennett Miller ("Foxcatcher") and Julian Schnabel ("Basquiat"), but he has also shown his Hollywood chops with the production of "The Hunger Games."
We are holding a Critics Forum this year to debate such questions as the future of film criticism in a digital age, what diversity brings to the movie industry, how choosing your critic can help guide you in making wise choices, ethics and film criticism and other issues that seem to become more important than less as daily print newspapers seem to be reducing their staff of arts critics.
We are welcoming a great group of critics including Leonard Maltin; Scott Foundas; Richard Roeper; Michael Phillips; Matt Zoller Seitz; Brian Tallerico; Glenn Kenny; Nell Minow; Susan Wloszczyna; Peter Sobczynski; Sheila O'Malley; Rebecca Theodore-Vachon; Matt Fagerholm; and Sam Fragoso. Fragoso, by the way, has been attending Ebertfest since he was in high school, and is now writing for Forbes, Inc., among other publications, and will be our official blogger this year.
Roger, rest assured that your Festival is still going strong! Eternal Love, Chaz
Source:: http://www.rogerebert.com/chazs-blog/ebertfest-2015-roger-you-would-approve