Dubnyk racks up another victory as Wild edge Leafs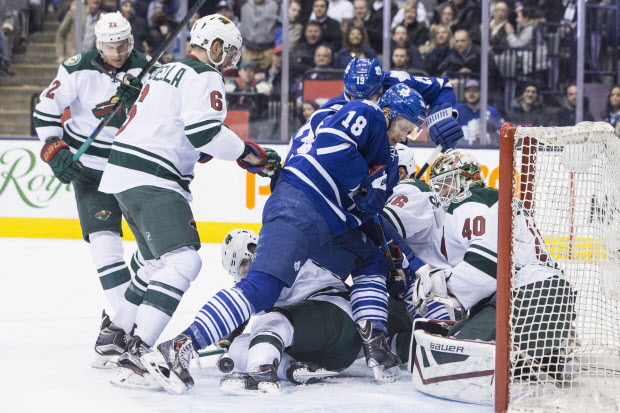 By Neil Davidson
TORONTO — A better effort but the same outcome for the Maple Leafs.
Toronto lost its sixth straight, mounting a late comeback but falling just short as the Minnesota Wild hung on for a 2-1 win Monday night.
Minnesota extended its franchise-record winning streak on the road to nine games, picking up two valuable points in the Western Conference wild-card race.
"We've got to take positives where we can get them," said Toronto winger Joffrey Lupul, who snapped a 17-game pointless streak with an assist. "We competed pretty hard with a really good, desperate team. But again the point is to win."
Attendance was announced at a less-than-capacity 18,366 and there were plenty of empty seats at the Air Canada Centre where patience and wins are both in short supply. The only other non-sellout of the season was Game 4 against Colorado which drew 18,754.
It's believed to be the Leafs' lowest attendance ever at the ACC.
Charlie Coyle and Thomas Vanek scored for Minnesota (41-25-7), which has gone 23-6-2 since acquiring goalie Devan Dubnyk on Jan. 14 from Arizona.
Dubnyk added to his ironman streak with a 35-save performance in his 32nd consecutive start (one of which came while Dubnyk was with the Coyotes).
"He's on a hell of a run, this guy," said Leafs winger James van Riemsdyk.
Defenceman Jake Gardiner made it interesting for Toronto (27-41-6) with 6:24 remaining, tapping in the puck after a Lupul slapshot trickled through Dubnyk's legs. Outshot 16-10 in the second period, the Leafs turned the tables in the third with an 18-5 edge in shots.
"We had a lot of good chances in the third," said Toronto coach Peter Horachek, who counted 10 scoring chances in the final period.
"I thought there was a pushback, there was an effort," he added.
Dubnyk's 32nd straight starts are the most by an NHL goalie since Anaheim's Jonas Hiller did it (Jan. 12 to March 18, 2012). The six-foot-six goalie can add to the ironman streak Tuesday against the Islanders.
According to the Elias Sports Bureau, Antti Niemi started 34 games in a row for San Jose from Jan. 15 to April 4, 2011.
The Leafs are 8-32-3 since ending a 10-1-1 run in mid-December. But there were signs of life with captain Dion Phaneuf, who injured his hand in a fight earlier this season, dropping the gloves in the second period to engage Kyle Brodziak after the Wild forward objected to a thumping clean check on Erik Haula.
Minnesota came into the game leading the Western Conference wild-card chase with 87 points, one point ahead of Winnipeg which played in Edmonton later. The Wild started the night with a 27-point bulge over the sagging Leafs.
"A huge two points," said Wild coach Mike Yeo. "Not at any time were we comfortable in that game. Toronto played a really good game tonight. They made it really tough on us."
Both Dubnyk and Toronto's Jonathan Bernier were efficient in goal. Bernier made several fine stops in the second period including denying Mikko Koivu when his breakaway shot bounced right back to him off the back boards.
The Leafs came close in a mad scramble at the end of the second period.
Coyle opened the scoring with 1:02 left in an uneventful first period, winning the draw and then tucking in the puck after a scramble in front. It was his 11th goal of the season and marked the 12th time in 13 games that the Leafs have yielded the first goal.
Vanek made it 2-0 from the high slot at 9:08 of the third after a slick passing play resulted in his 19th of the season.
Source:: http://www.canada.com/sports/Dubnyk+racks+another+victory+Wild+edge+Leafs/10913724/story.html