Did Emma Génier land her Paris first runway gig?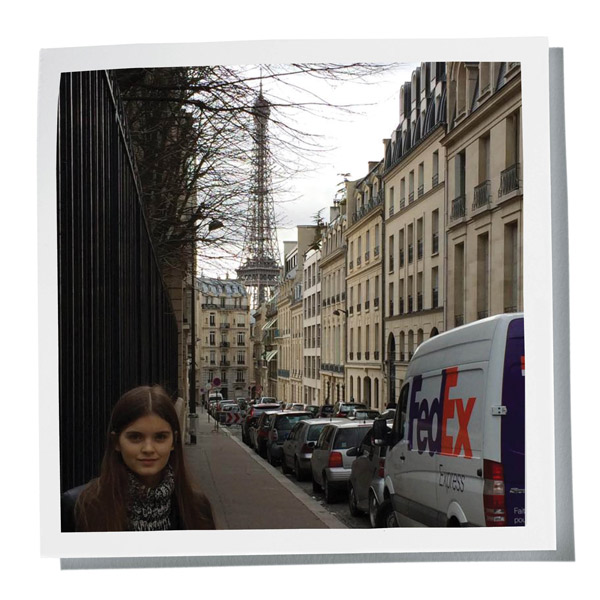 By Emma Génier
Today was another day of running around the city to many castings and fittings, but this time there was a huge challenge for me…no driver. I have completely no sense of direction. I can even get  lost in my shopping centre in my town; and there's only 10 stores there! I think I take after my father. And he agrees!
So I used Google Maps to guide me and despite the fact that everything is precisely indicated on the application and that it is almost impossible to go wrong way, I still managed to get lost. I went completely in the opposite direction of my destination and it took eight metro stops before I realized my mistake. I had to turn around and quickly! After getting used to it, I finally realized that the Paris metro is not so complicated as it seems at first glance. On the train, I love to listen to music, one of my favorite songs right now is Sugar by Maroon 5.
Today things were a little more promising for Emma during her casting call curcuit. Did she land her first runway gig?Yesterday I was a little disappointed[1] with my day because even though I did my best at the castings, I was not sure if I was getting a good response. It's sometimes difficult to deal with it when they don't chose you. When I'm feeling that way, my father always tells me, "Have you done everything you could do to be at your best? If so, you can not blame yourself, you forget, and you look forward to the next."  Also, Chantale Nadeau, my mother agent often tells me 'Sometimes it's not you they do not like, but you just do not have the look they are after. Some customers will love you and others won't. "
Today, I left yesterday behind me and I started the day off right. I went to my first casting, I tried several pieces of clothing and the designer and the stylist seemed to like the way that the clothes fit me. What good news when I received a call from my agent later in the afternoon to tell me to go back there, because I had a real fitting for them! The show is in two days and I am confident that I will be part of it! (I can't say who it may be for until I'm actually backstage and getting ready to walk the runway! Stay tuned!)
Since my last two days in Paris,[2] there was something that surprised me. I never know if I should speak English or French … imagine, being a francophone and not knowing what language you should speak in Paris. Even if it's the same language In some cases, for the same meaning, we use completely different words. As an example, if I want to say ''girl'' in a Canadian way, I would say ''fille'', but in a Parisian way ''meuf''. Certain times, even though I'm French, it's hard for me to understand their pronunciation. And they do look at me funny sometimes when I say a Quebecois expression!
I am off to bed now and tomorrow is a big day I have many many more appointments and one of them is for Chanel; wish me luck! xo Emma
READ MORE
Follow Canadian model Emma Génier on her debut catwalk season!
Emma Génier heads off for her first Paris casting calls.
You're ultimate guide to Paris Fashion Week Fall 2015[3][4][5]
Similar Posts:
You might also like
About Noreen Flanagan
Here's how a fashion and beauty fantasy day for me might unfold. First, I'd meet Alber Elbaz for an espresso and a croissant. Then Stella McCartney and I would go for a run to work off my bakery sins with Alber. At home, Guido Palau would be waiting to do my hair and then the charming Peter Philips would perform a makeup miracle. I'd then slip into a shift dress from Céline (it's Look 10 from the fall collection, if you're curious.) Because I'd be lunching with Haider Ackermann, I'd likely wear one of his long woven jackets. I'm thinking Look 14 would be perfect. Later that night, I'd have cocktails with Raf Simons wearing Look 5—or perhaps Look 3. And then—if I have the stamina—I'd join Karl at one of his swish afterparties. Yes, that's pretty much my fantasy day.
References
^ Yesterday I was a little disappointed (www.ellecanada.com)
^ Paris, (www.ellecanada.com)
^ Follow Canadian model Emma Génier on her debut catwalk season! (www.ellecanada.com)
^ Emma Génier heads off for her first Paris casting calls. (www.ellecanada.com)
^ You're ultimate guide to Paris Fashion Week Fall 2015 (www.ellecanada.com)
Source:: http://ellecanada.com.feedsportal.com/c/34164/f/621200/s/4401f324/sc/10/l/0L0Sellecanada0N0Cblog0C20A150C0A30C0A30Cdid0Eemma0Egenier0Eland0Eher0Eparis0Efirst0Erunway0Egig0C/story01.htm