DeRozan's 42 points lead Raptors over Rockets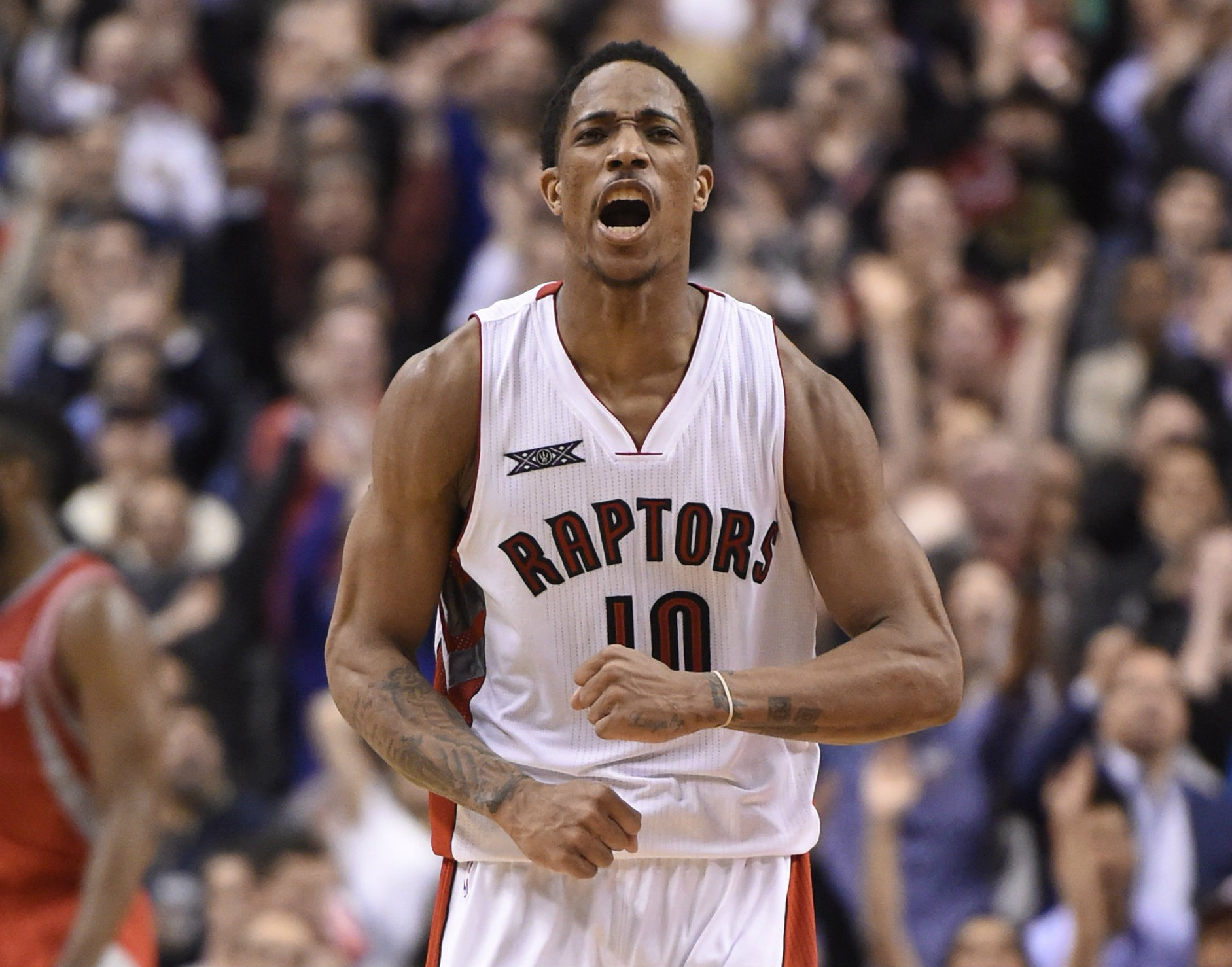 TORONTO — DeMar DeRozan poured in a career-high 42 points as the Toronto Raptors defeated the Houston Rockets 99-96 on Monday night.
DeRozan hit the final two shots of the night as the Raptors (44-30) won their second straight game.
The win over Houston (50-24) marks the first time the Raptors have defeated an above .500 opponent since a 105-80 win in Atlanta on Feb. 20.
It was a great show by two superb shooting guards — DeRozan and Houston's MVP candidate, James Harden — who had 31 points to lead the Rockets. They guarded each other much of the night.
DeRozan missed two free throws in the final minute that would have widened the Raptors' then one-point lead. But he redeemed himself when he backed down Harden and hit an 18-footer with 18 seconds to go.
Toronto played its third straight game without all-star point guard, Kyle Lowry, who sat out with back spasms.
Harden had the final five points of the third quarter to put Houston up 76-74 going into the fourth.
Earlier in the quarter, DeRozan hit a 19-foot jump shot to give Toronto its first lead of the night, 59-57.
The Raptors eventually widened the lead to seven points.
Houston opened up big leads in each of the first two quarters before the Raptors battled back.
The Rockets were up by 11 with just over five minutes to go in the first half before DeRozan and Valanciunas combined to re-energize their team — and the crowd — late in the second quarter.
The pair scored Toronto's final 15 points of the half as the Raptors trimmed Houston's advantage to 52-48 at the break.
Jonas Valanciunas was a force under the basket at both ends, thrilling the crowd by blocking Harden's layup attempt, which cued a fast break the other way as DeRozan finished the play by laying it in.
DeRozan hit for 12 points in the second quarter, including Toronto's final 10 of the half.
Valanciunas had five points and four rebounds in the quarter before checking out with 1:15 to go in the half after picking up his third personal foul.
The Raptors, who hit just one of their first seven field-goal attempts to open the game, closed the first quarter on a 17-8 run to tie it at 27 after 12 minutes. Houston led by as many as nine in the quarter.
Source:: http://www.canada.com/sports/basketball/DeRozan+points+lead+Raptors+over+Rockets/10933114/story.html