Children killed in Brooklyn house fire to be buried in Israel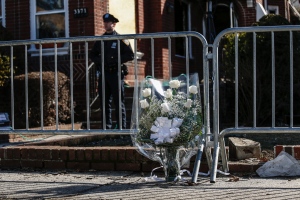 The bodies of seven siblings who died in a house fire are headed to Israel for burial, a day after their sobbing father told mourners in his ultra-Orthodox Jewish community how much joy they had brought him.
"They were so pure," Gabriel Sassoon said Sunday of his children during a eulogy. "My wife, she came out fighting."
Flames engulfed the family's two-story, brick-and-wood home in Brooklyn's Midwood neighborhood early Saturday, likely after a hotplate left on a kitchen counter set off the fire that trapped the children and badly injured their mother and another sibling, investigators said.
The tragedy had some neighborhood Jews reconsidering the practice of keeping hotplates on for the Sabbath, a common modern method of obeying tradition prohibiting use of fire on the holy day.
The service at the Shomrei Hadas funeral home began with prayers in Hebrew, accompanied by the wailing voices of mourners. They could be heard through speakers that broadcast the rite to thousands of people gathered outside on the streets in traditional black robes and flat-brimmed hats.
A flower arrangement rests at the scene of a house fire that killed seven children yesterday in the Midwood neighbourhood in Brooklyn on Sunday in New York City. (Kena Betancur/Getty Images)
After the funeral, mourners hugged the sides of SUVs with flashing lights that took the bodies of the children, ages 5 to 16 — accompanied by their father — to John F. Kennedy International Airport for the flight to Israel.
Sassoon's surviving wife and a daughter — Gayle Sassoon and 14-year-old Siporah Sassoon — remained in critical condition on respirators.
"My children were unbelievable. They were the best," Sassoon said at their funerals, calling them "angels."
Authorities identified the victims as girls Eliane, 16; Rivkah, 11; and Sara, 6; and boys David, 12; Yeshua, 10; Moshe, 8; and Yaakob, 5.
"Eliane was a spirited child. Rivkah, she had so much joy," their father said.
Rivkah "gave joy to everybody," he said. "And David, he was so fun."
Yeshua was "always trying to make others happy," as was Yaakob, Sassoon said.
At the time of the fire, Sassoon — a religious education instructor — was in Manhattan at a Shabbaton, an educational retreat.
The hotplate was left on for the Sabbath, which lasts from sundown Friday to sundown Saturday. Many religious Jews use one to keep food warm, obeying the traditional prohibition on use of fire on the holy day as well as work in all forms, including turning on appliances.
The Sassoons' hotplate apparently malfunctioned, setting off flames that tore up the stairs, trapping the children in their second-floor bedrooms as they slept, investigators said.
A neighbour, Karen Rosenblatt, said she called 911 after seeing flames and smoke billowing from the home. Her husband said he heard "what seemed like a young girl scream, `Help me! Help me!"' she said.
Neighbours reconsider use of hotplates
Firefighters arrived in less than four minutes and discovered the badly burned and distraught mother pleading for help, officials said. When they broke in the door, they encountered a raging fire that had spread through the kitchen, dining room, common hall, stairway leading upstairs and the rear bedrooms.
"I couldn't help crying my heart out as I saw the house," said Dalia Hen, 51, a Midwood neighbor. "It's like our own children."
State Assemblyman Dov Hikind, who represents Midwood, said he's hearing from more and more people concerned about use of the hotplates on Sabbath. He said he called his daughter, who has six children and uses a hotplate, and told her, "You've got to stop using that."
"This is an important wakeup call for people, because it may save your life or the life of your children," he said.
Shifra Schorr, 44, a mother of five a few blocks from the Sassoon house, said she and her friends don't use hotplates, but "we're all talking about it."
Earlier at the family's fire-gutted home on Bedford Avenue, a police officer stood guard as contractors boarded up windows with plywood.
Across the street from the Sassoon home, 89-year-old Izzy Abade said he'd watched Gayle Sassoon grow up, then her children.
"They used to play right across the street, riding bikes, playing in the backyard, playing ball."
The family had moved about a year and a half ago from East Jerusalem, a contested part of the city where both Arabs and Jews live.
"There's only one way to survive this," Gabriel Sassoon said of his children's deaths. "There is only total and complete, utter surrender."
Source:: http://www.cbc.ca/news/world/children-killed-in-brooklyn-house-fire-to-be-buried-in-israel-1.3005134?cmp=rss