Chanel 2015 handbag campaign "3 Girls, 3 Bags" stars Kristen Stewart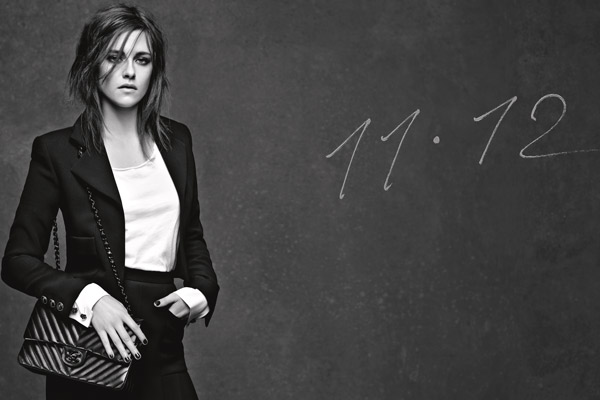 All photos courtesy of Chanel.
By Jasmine Roberts
After teasing us with news that Kristen Stewart[1], Vanessa Paradis and Alice Dellal would be the new faces of Chanel's 2015 handbag campaign, the French luxury brand finally released "3 Girls, 3 Bags," featuring each woman representing one of the iconic Chanel handbags: 11.12, Boy and Girl.
Read more about Chanel's 2015 handbag campaign after the jump…

Shot by in black and white by Karl Lagerfeld[2], Kristen Stewart embodies the 11.12, channelling the persona of a modern and fundamental woman, while Alice Dellal continues her story with the Boy bag: She fronted the bag's launch in 2013, showcasing her inner punk-rock attitude.
Venerssa Paradis takes on the Girl handbag, expressing a soft femininity in nothing but a pearl necklace[3] and the Girl Chanel cross-body bag.
READ MORE
Kristen Stewart is on Instagram[4]
Kristen Stewart's 10 best looks[5]
Karl Lagerfeld sketches Coco Chanel[6]
Similar Posts:
You might also like
References
^ Kristen Stewart (www.ellecanada.com)
^ Karl Lagerfeld (www.ellecanada.com)
^ necklace (www.ellecanada.com)
^ Kristen Stewart is on Instagram (www.ellecanada.com)
^ Kristen Stewart's 10 best looks (www.ellecanada.com)
^ Karl Lagerfeld sketches Coco Chanel (www.ellecanada.com)
Source:: http://ellecanada.com.feedsportal.com/c/34164/f/621200/s/44010f26/sc/17/l/0L0Sellecanada0N0Cblog0C20A150C0A30C0A30Cchanel0E20A150Ehandbag0Ecampaign0E30Egirls0E30Ebags0Estar0Ekristen0Estewart0C/story01.htm