Canucks, Burrows take down Flyers, 4-1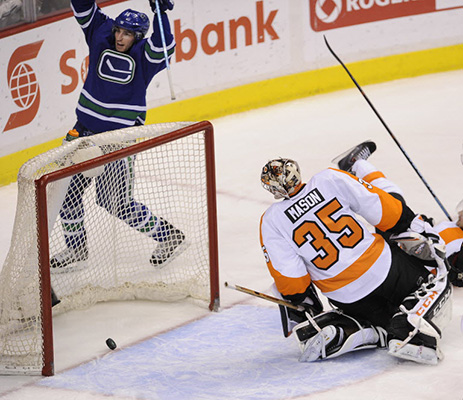 VANCOUVER — On a night the Vancouver Canucks honoured Pat Quinn, it was another 'Irishman' who helped cap off what was a highly emotional evening in style.
You've heard of Alex O'Burrows, right?
Okay, he's French-Canadian, but it was St. Patrick's Day, so technically everyone is Irish.
Burrows scored two goals 17 seconds apart seven minutes into the third period to snap a 1-1 tie and give the Canucks a big 4-1 win over the Philadelphia Flyers.
Pat Quinn's Irish eyes must have been smiling. It was the perfect ending to what was an emotional night at a sold-out Rogers Arena. The game was preceded by a centre-ice ceremony that featured, among others, Pavel Bure, Markus Naslund, Trevor Linden, Kirk McLean, Flyers legend Bobby Clarke, original Canuck captain Orland Kurtenbach and Quinn's family.
Burrows said the ending was especially sweet given that it came on the night the team was honouring Quinn.
"For a lot of us that had a chance to meet Pat, he meant a lot to a lot of people in this organization," Burrows said. "His fingerprints are all over this organization and I think his teams always played really hard and with passion and that is what we wanted to bring tonight."
Burrows, who returned to the lineup after missing Saturday's game against Toronto, gave the Canucks the lead at 6:44 of the third when he took a pass off the rush from Daniel Sedin and put a shot from the right circle through the legs of Philadelphia goalie Steve Mason. Burrows then banged home a rebound off a Daniel shot to give Vancouver a two-goal lead.
"The twins are such great players and they were able to find some open space and find me in shooting areas," Burrows said. "Lucky enough, I completely missed it, but found a way to go five-hole.The other one was just a good rebound."
Catch us if you can, the Canucks appear to be saying to the teams chasing them in a tight Pacific Division playoff race.
And they seem determined that it won't be easy.
The Canucks have now won three of the first four games of their five-game homestand. That has helped them hold onto second place in the Pacific Division.
"We have been having good starts and kind of just playing our game, which is playing hard for 60 minutes and trust that if we do that we are going to get the points," said defenceman Alex Edler, who scored Vancouver's first goal.
The Canucks got some out of the town help from the St. Louis Blues, who beat the Calgary Flames 4-0 on Tuesday night.
Vancouver now has 84 points, three more than both the Los Angeles Kings and Flames. Los Angeles is now third in the Pacific by virtue of having played one less game than Calgary.
They may not be the Broad Street Bullies anymore, but the Flyers remain a heavy team and they pounded the Canucks throughout the game. The Flyers had a 42-22 edge in hits, but Vancouver answered the challenge.
"They are a tough team to play against,": Edler said. "They are coming hard and you don't have very much time when you go back for pucks."
The game was half over before anyone scored.
Michael Raffl gave the Flyers a 1-0 lead at 10:42 of the second period when he tipped a Claude Giroux pass from close range past Vancouver goalie Eddie Lack.
Four minutes later, Edler tied the game when he skated in from the blue line, took a pass from Brad Richardson and put a backhand shot past Mason.
Lack was again rock solid. He made a couple of huge saves off Brayden Schenn and Raffl late in the third.
Vancouver defenceman Dan Hamhuis and Flyers forward Jakub Voracek had a spirited scrap in the second period. Voracek landed the harder punches and more of them.
Radim Vrbata scored an empty-net goal with 10 seconds remaining in the third period.
ICE CHIPS: Winger Zack Kassian did not play Tuesday night. Coach Willie Desjardins said he suffered a minor injury in Monday's practice. . .The Canucks conclude their homestand Thursday night against the Columbus Blue Jackets. They then head out for a quick two-game road trip that makes stops Saturday in Los Angeles and Sunday in Phoenix. . .It was the 12th sellout of the season for the Canucks.
bziemer@vancouversun.com
Twitter.com/bradziemer
Source:: http://www.canada.com/sports/hockey/vancouver-canucks/Vancouver+Canucks+Alex+Burrows+take+down/10898051/story.html