Canadiens hold on to tame Panthers, 3-2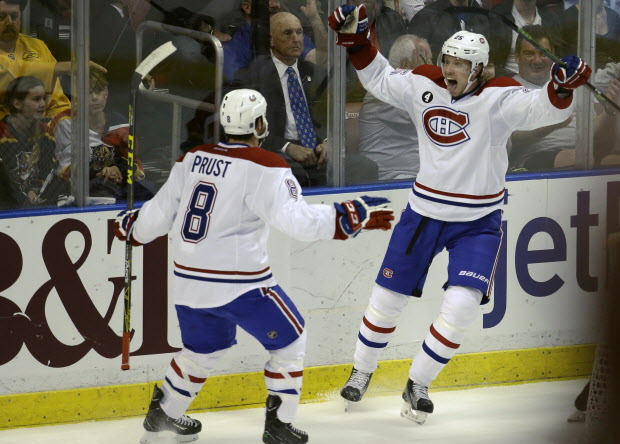 SUNRISE, Fla. – P.K. Subban scored the last of Montreal's three second-period goals, and the Canadiens held on to beat the Florida Panthers 3-2 on Tuesday night.
Jacob De La Rose had a goal and an assist, and Alexei Emelin also scored for the Canadiens. Dustin Tokarski made 41 saves in his first start in six games and earned his second win in seven starts.
Brandon Pirri and Aleksander Barkov scored for the Panthers. Dan Ellis stopped 22 shots in his sixth straight start.
The Canadiens won for just the third time in nine games, but they remain atop the Atlantic Division with 95 points.
The Panthers lost their second straight after winning three consecutively.
Florida goalie Roberto Luongo missed his sixth consecutive game due to an upper-body injury and remains day-to-day.
Subban made it 3-2 when his shot from high in the right circle beat Ellis on the stick side at 15:26 of the second.
Pirri had tied it at 2 when his shot from the right circle went in at 13:35. Pirri has 13 goals in his past 18 games.
De La Rose gave the Canadiens a 2-1 lead at 8:23 of the second with a short-handed goal, the sixth scored by Montreal this season. Brandon Prust corralled a loose puck along the left side, then made a perfect feed to De La Rose at the right circle for a shot past Ellis.
Barkov gave Florida a 1-0 lead when he grabbed a loose puck in the slot and wristed it past Tokarski at 4:20 of the second. Barkov has a career-high 25 points this season.
Emelin tied it with a shot from the point that went through traffic in front and high into the net at 5:44.
NOTES: Canadiens C Brian Flynn was scratched due to an upper-body injury sustained Monday in a 4-2 loss at Tampa Bay. … C Torrey Mitchell (upper-body) and D Nathan Beaulieu (flu) each missed their second straight game. … The "Goal of a Lifetime" contest during the first intermission ended in a tie. Contestants Dustin Smith and Bill Ruggiero each stopped three of four shots in a shootout and will both serve as the Panthers' practice backup goalie on Wednesday. The contest, inspired by injuries to Luongo and Al Montoya on March 3, drew over 1,500 applicants and 65 participants.
Source:: http://www.canada.com/sports/hockey/Subban+scores+last+Canadiens+goals+period+Montreals+over/10897907/story.html