Canada's oilpatch makes the pitch to Wall Street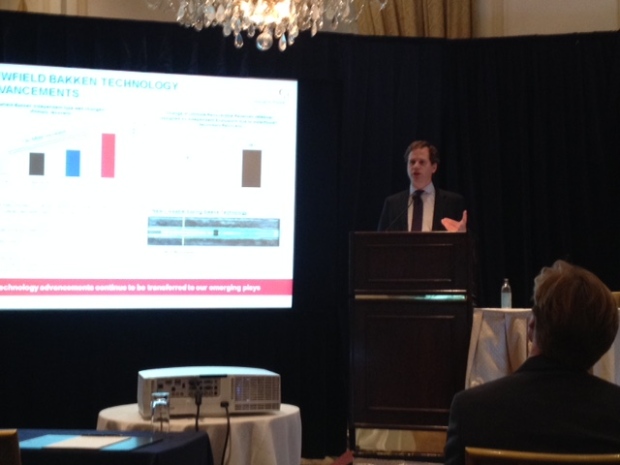 For the past 21 years, a group of Calgary energy companies has travelled to the Big Apple to make the pitch that Canadian oil is a good investment.
Some years that's a pretty easy sell; this year it's a bit trickier. Shares in Canadian energy companies are down around 40 per cent from their peak in 2014. And there are no signs that oil prices are about to improve.
In fact, the very first presenter, Mike Rose of Tourmaline Oil, cracked a joke about the endless sea of misery before assuring the Wall Street crowd that it will get better. Eventually.
'If you're not an optimist, you shouldn't be in the oil and gas industry' – Jim Davidson, chair FirstEnergy Capital
The conference is held by FirstEnergy Capital, a Calgary investment bank that advises and makes deals for the energy industry.
Jim Davidson, the chair of the company, said the mood this year is sombre.
"We've seen an incredible collapse in commodity prices, oil in particular has fallen dramatically and doesn't show any signs of rebounding dramatically either. So it's a more reflective mood," he said.
As formal presentations are made in the ballroom of a midtown Manhattan hotel, more than 200 one-on-one meetings are happening on a higher floor. That's where executives make the case for investing in energy over the many other options available.
New York investors cautious
"The potential investors are a little cautious because they feel that we might not be at the bottom of the market," said George Fink, the chief executive of Bonterra Energy
"They certainly compare the commodities industry with a lot of other industries, like financial, manufacturing, or auto, those industries are doing well."
In Canada, there has been a reasonably warm receptiong to fund-raising by the oilpatch, with $3.5 billion in energy financing in Canada since the start of the year. Most of that cash has been used to shore up balance sheets so that the companies have the cash to survive the downturn.
Scott Saxbery of Calgary's Crescent Point Energy presenting at the FirstEnergy Capital conference in Manhattan (Tracy Johnson/CBC)
'So you can pick the top ten guys and they'll all grow and look great because they've managed their business properly. And then there are 80 guys that maybe won't.'- Scott Saxbeg, Crescent Point Energy
Energy companies — being eternal optimists — are also using money raised to buy assets and competitors.
A time of crisis in the oilpatch means the strong can pick off the weak, through buying assets or acquiring whole companies.
These kinds of deals have already started, but there are expectations that a wave of merger and acquisition activity is on its way, if prices remain low and weaker companies burn through more of their cash.
Which brings us to the question of just when oil prices will recover. The North American benchmark, WTI, continues to be weak, as U.S. production increases and storage tanks fill up.
Although drilling rigs are being laid down in high numbers, there's still a glut of supply. Last week, U.S. production rose to a multi-decade high of 9.37 million barrels per day.
Here in Canada, the numbers aren't as dramatic, but CAPP, the Canadian Association of Petroleum Producers, still expects Western Canadian production to increase over 2014 levels by 150,000 barrels a day.
Energy sector not pulling back on production
What's notable in the conference so far is that companies are not talking about pulling back on production.
That's in large part because Alberta's oilsands producers are locked into certain production levels, so if a smaller producer tries to cut back, they feel the pain of lost production, but have virtually no impact on global supply.
To take one example, Crescent Point Energy, an intermediate oil producer that managed to hedge more than half of its production this year at $89 a barrel, intends to modestly increase production this year to around 160,000 barrels a day.
Crescent Point's chief executive Scott Saxberg says the market will force weaker companies to cut production.
"You have good companies and we characterize ourselves as a good company. And you have poor companies that are in poor positions in their basin and have debted up and a lot of those companies on the fringe are going to see a drop in production," said Saxberg.
"So you can pick the top 10 guys and they'll all grow and look great because they've managed their business properly and then there are 80 guys that maybe don't. And then you see the growth profile in 2016 really dramatically change."
Source:: http://www.cbc.ca/news/business/canada-s-oilpatch-makes-the-pitch-to-wall-street-1.2992310?cmp=rss