Canada's Milos Raonic knocks off Japan's Tatsuma Ito in Davis Cup opener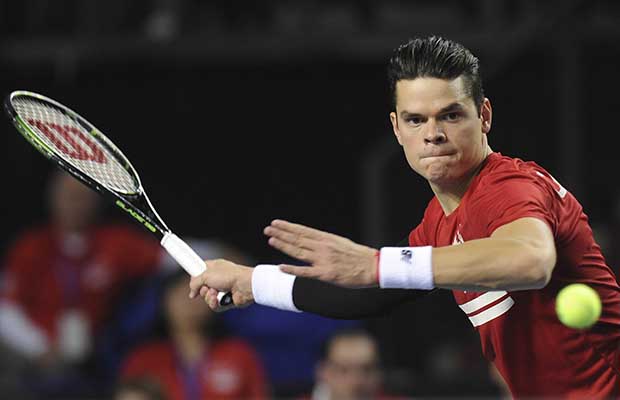 Canada's Milos Raonic returns a shot against Japan's Tatsuma Ito during their Davis Cup match at Thunderbird Sports Centre in Vancouver on Friday, March 6, 2015. Raonic won 6-2, 6-1, 6-2.
Photograph by: Jason Payne , PNG
VANCOUVER — Milos Raonic defeated Tatsuma Ito in straight sets Friday as Canada captured the first match of its Davis Cup tie with Japan.
Raonic, of Thornhill, Ont., who is ranked sixth in the world, won 6-2, 6-1, 6-2 in just one hour 27 minutes.
Japan's Kei Nishikori, ranked fourth in the world, faces No. 62 Vasek Pospisil of Vancouver in the second match of the best-of-five World Group showdown later Friday.
The 24-year-old Raonic broke the 85th-ranked Ito twice in the first set while leading 3-2 and never really looked back before a partisan crowd at the Doug Mitchell Thunderbird Sports Centre.
Already up a break, Raonic asserted his dominance leading 4-1 in the second with a love game to break Ito again before a service love game to take the set.
Ito showed some life early in the third, but Raonic secured his fifth and sixth break points en route to his ninth straight Davis Cup victory on home soil.
The hard-serving Raonic took advantage of the fast surface at the University of British Columbia all afternoon, finishing with 17 aces while Ito had just two.
Canada reached the World Group semifinals in 2013, but fell to Japan last year with both Raonic and Pospisil injured for the tie in Tokyo.
On Saturday, Pospisil and Toronto's Daniel Nestor are scheduled to meet Go Soeda and Yasutaka Uchiyama in doubles.
Teams can substitute players up to an hour before a match, and Canadian captain Martin Laurendeau said he expects Nishikori to play in the doubles contest.
The reverse singles matches are set for Sunday afternoon.
Source:: http://www.canada.com/sports/tennis/Canada+Milos+Raonic+knocks+Japan+Tatsuma+Davis+opener/10868561/story.html