Camille Muffat, Olympic gold medallist, among 10 dead in helicopter crash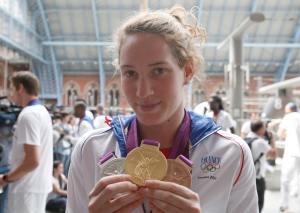 Two helicopters carrying passengers filming a popular European reality show crashed Monday in a remote area of northwest Argentina, killing eight French citizens and two Argentines, authorities said.
The helicopters crashed while flying near Villa Castelli in La Rioja province, about 1,170 kilometres northwest of Buenos Aires, La Rioja Secretary of Security Cesar Angulo told television station TN. All 10 people on board both aircraft were killed.
"An explosion occurred and it's believed that they must have collided," said Angulo. "Aeronautical experts will have to determine that."
The French president's office said among those killed was three-time Olympic medallist Camille Muffat, who won gold in the 400-metre freestyle swimming at the 2012 London Games. Alexis Vastine, a two-time Olympic boxer who won bronze at the 2008 Beijing Olympics, is also dead.
La Rioja police commissary Fabian Gordillo told state news agency Telam that the dead included two Argentine pilots and eight French citizens. The Argentine pilots were identified as Juan Carlos Castillo and Roberto Abate. The identities of the Frenchmen were not released.
French swimmer Camille Muffat holds her gold, silver and bronze medals after arriving on home soil after the London 2012 Olympic Games, on Aug. 13, 2012. (Neil Hall/Reuters)
The mayor of Villa Castelli, Andres Navarrete, said the French nationals were part of a team filming the reality show Dropped, a survivalist program with several versions across Europe.
"The causes of the crash are not known," Navarrete told radio station Cadena 3. "The helicopters hit the ground and we have this tragedy."
Angulo said one of the helicopters belonged to La Rioja province and the other belonged to the neighbouring province of Santiago del Estero.
Several after-hours calls to various departments within the municipality of Villi Castelli were not answered.
Source:: http://www.cbc.ca/news/world/camille-muffat-olympic-gold-medallist-among-10-dead-in-helicopter-crash-1.2988361?cmp=rss