Breaking: Peter Dundas named creative director at Roberto Cavalli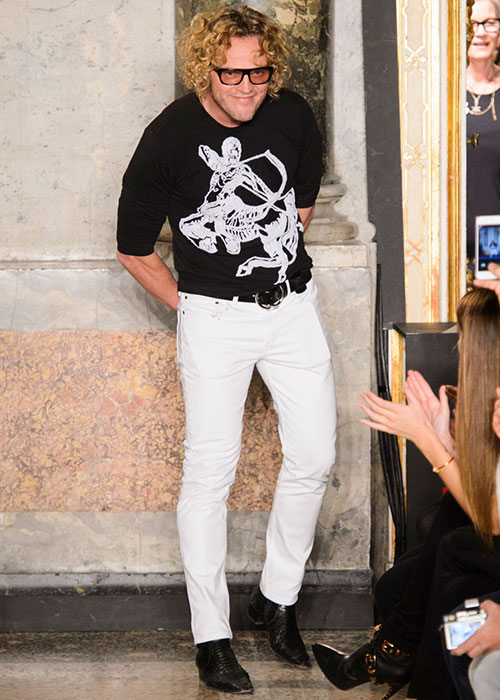 Peter Dundas takes his final bow at Emilio Pucci last month. Photo courtesy of ImaxTree.com
So the rumours were true after all: Peter Dundas took his final bow at Emilio Pucci this past Fall 2015 season at Milan Fashion Week to step into the top spot at Roberto Cavalli, early reports reveal. In the latest round of fashion's favourite game of musical chairs, Dundas, who was a frontrunner for the creative director gig, vacates his current post as creative director at Pucci immediately. It's being reported that Cavalli will move into a shareholder role of his eponymous label.
READ MORE: Milan Fashion Week Fall 2015: Your insider's guide[1]
Dundas' first collection at Cavalli is set to hit the spring runway in September.
READ MORE:
Best street style: Milan Fashion Week Fall 2015
MFW Fall 2015: Top 10 runway trends
MFW Fall 2015: Our top 10 looks from Gucci[2][3][4]
Similar Posts:
You might also like
About Ava Baccari
I have this thing where if you don't laugh at any one of my jokes within the first five minutes of meeting me, well then we can't be friends. Problem is, I can never tell if you're humoring me or my anecdotes of the time that I accidentally barged through airport security (and set off alarms) or told Tommy Hilfiger that I loved him were really LOL-worthy. So let's just make this easy and become great friends: laugh at my jokes.
References
^ READ MORE: Milan Fashion Week Fall 2015: Your insider's guide (www.ellecanada.com)
^ Best street style: Milan Fashion Week Fall 2015 (www.ellecanada.com)
^ MFW Fall 2015: Top 10 runway trends (www.ellecanada.com)
^ MFW Fall 2015: Our top 10 looks from Gucci (www.ellecanada.com)
Source:: http://ellecanada.com.feedsportal.com/c/34164/f/621200/s/44931ac1/sc/13/l/0L0Sellecanada0N0Cblog0C20A150C0A30C190Cbreaking0Epeter0Edundas0Enamed0Ecreative0Edirector0Eroberto0Ecavalli0C/story01.htm