Bourque leads Blue Jackets over Flames with late OT goal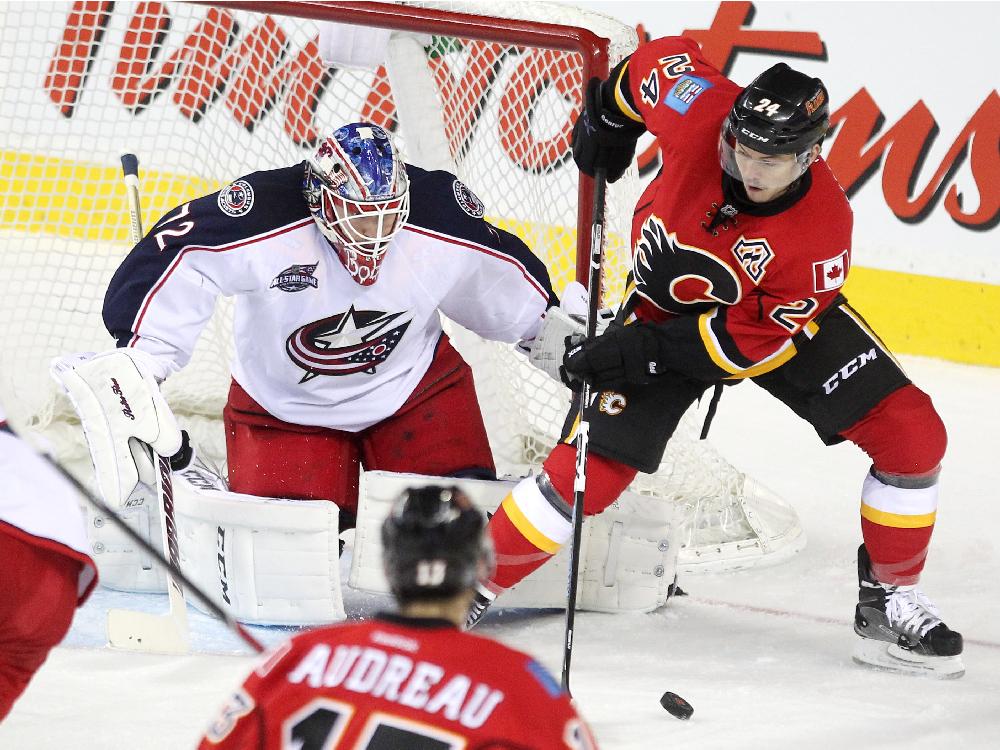 Colleen De Neve/ Calgary Herald CALGARY, AB –MARCH 21, 2015 — Calgary Flames centre Jiri Hudler handled the puck just outside the net of Columbus Blue Jackets goalie Sergei Bobrovsky during first period NHL action at the Scotiabank Saddledome on March 20, 2015. (Colleen De Neve/Calgary Herald) (For Sports story by Kristen Odland) 00057789A SLUG: 0323-Flames Blue Jackets
Photograph by: Colleen De Neve , Calgary Herald
Rene Bouque scored his second goal of the game in the final minute of overtime to lead the Columbus Blue Jackets to a 3-2 win in National Hockey League action Saturday afternoon at the Scotiabank Saddledome.
The Flames' home stand continues Monday when the Colorado Avalanche hit town.
Blue Jackets centre Artem Anisimov, on a giveaway by Kris Russell, potted the equalizer at 4:21 of the third period.
The Flames, who led 2-1 after 40 minutes, got goals from Sean Monahan, with his 29th, Jiri Hudler
In the first period, Monahan (from Hudler and Johnny Gaudreau) on the power play and Bourque exchanged goals.
Hudler, on a snappy feed from Monahan, re-established the Flames' lead at 2:44 of the second period.
And even though the locals outshot the Blue Jackets 9-0 through the opening seven minutes of the period, they failed to improve their advantage.
C-NOTES: Flames scratches – D Corey Potter, D Mark Giordano (biceps), D Ladislav Smid (neck), C Paul Byron (lower body), C Josh Jooris (unspecified), C Drew Shore (unspecified).
=
scruickshank@calgaryherald.com
Source:: http://www.canada.com/sports/Bourque+leads+Blue+Jackets+over+Flames+with+late+goal/10909833/story.html