BlackBerry will launch 4 new smartphones, including Leap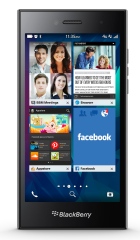 New
But company says it's continuing its shift from hardware to software
The Associated Press Posted: Mar 03, 2015 8:59 AM ET Last Updated: Mar 03, 2015 9:10 AM ET
Related Stories
BlackBerry has billed the Leap as an 'affordable' all-touch smartphone, targeted at 'mobile professionals' such as start-up entrepreneurs. (BlackBerry)
BlackBerry will launch four new smartphones this year and a new package of cross-platform applications as it continues its "philosophical" shift to making software.
The struggling company unveiled its BlackBerry Leap phone at the Mobile World Congress wireless show in Barcelona on Tuesday. The "low-to-mid" market phone will go on sale in Europe in April. The phone is targeted at mobile professionals such as start-up entrepreneurs and the company touts its security features.
Three more phones will follow, including a high-end luxury phone designed in partnership with Porsche and a phone with a slide-out keyboard, unveiled by Ron Lokus, the company's new president of devices and emerging solutions.
What a Surprise! Ron just pulled out a dual-curved, all-touch display with a Keyboard – yes a slider device! #MWC15 pic.twitter.com/8VaPUZHo3j
— @BlackBerry
CEO John Chen says that since he took over a year and a half ago BlackBerry is now "committed to making software as a business. That statement carries a lot."
Blackberry will roll out "BlackBerry Experience," a set of three software packages focusing on security and communications for business and government customers over the next year.
Chen says BlackBerry is "stabilizing" financially, without presenting figures.
With files from CBC News
Source:: http://www.cbc.ca/news/technology/blackberry-unveils-leap-smartphone-plans-3-more-models-1.2979647?cmp=rss