Bill S-6 faces standing committee hearing in Whitehorse today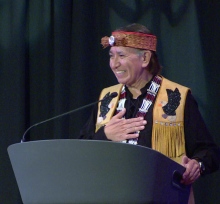 The standing committee on aboriginal affairs is holding its long awaited hearing on Bill S-6, that would amend the Yukon Environmental and Socio-Economic Assessment Act (YESAA), today in Whitehorse.
Representatives from the Yukon government, First Nations, mining groups and environmental groups are scheduled to speak at the public hearing, as are a couple of individuals. 
The prospect of S-6 passing into law has alarmed most Yukon First Nations because YESAA arose directly from provisions of the Umbrella Final Agreement between Canada, Yukon and First Nations, which laid the groundwork for subsequent final land claim and self government agreements.
The review of YESAA, which culminated in Bill S-6, took place over five years with involvement from those three parties. 
The main sticking point for First Nations is four amendments, added after the review period.
They are: 
delegation of federal powers to Yukon government;
policy direction to the YESAA  board;
timelines for assessments; and  
exemptions from renewals and amendments
"We continue to expect their deletion from Bill S-6," Ruth Massie, grand chief of the Council of Yukon First Nations, says of the amendments.
Eric Fairclough, chief of the Little Salmon Carmacks First Nation, is one of the most vociferous opponents of Bill S-6.
"We are deeply troubled that Canada is proposing to give the minister the authority to unilaterally issue binding policy direction to the board," he says. "The board's independence is a fundamental principle that Canada, Yukon and First Nations agreed to and was intended to avoid the influence of any one party." 
'Tomorrow we're going to go to court probably on the YESAB just to protect what we have in our agreements,' said Mike Smith at a recent gathering celebrating self government. (Philippe Morin/CBC)
Mike Smith says S-6 constitutes a significant danger to the final agreements. He's a lawyer, former land claim negotiator, former head of the Council of Yukon Indians (a precursor to the CYFN), former chief of the Kwanlin Dun First Nation and regional chief of the Assembly of First Nations.
"Our agreements are under attack constantly," says Smith, "and basically they want to go back to where we don't have any say in what happens in the Yukon."
Smith says the government has a duty to not only "consult" but also "accommodate." He says that element is clearly missing when it comes to Bill S-6.
Mining company urges governments to 'work collaboratively'
The bill is unusual for the reaction it has provoked from the mining industry.
In late November, Casino Mining Corporation president Paul West-Sells sent a letter to aboriginal affairs minister Bernard Valcourt, noting the company's "concerns regarding the fragility of intergovernmental relations in the Yukon surrounding Bill S-6 and the negative impact this is having on the territory's mineral industry."
West-Sells urged all three governments to "work collaboratively and find a solution" to the issues.
Till Capital, which owns Golden Predator, also sent a letter to Valcourt, noting "the lack of certainty increases risk and can induce us to reduce or eliminate our investment in certain jurisdictions."
Kaminak Gold and Rock Haven Resources also chimed in at the B.C. Mineral Exploration Roundup, encouraging all the governments to "work together" to resolve the differences over the bill.
Valcourt promises to consider 'hard evidence'
Aboriginal Affairs Minister Bernard Valcourt has come under fire for telling Yukon First Nations they aren't governments. (Chris Wattie/Pool/The Canadian Press)
Such exhortations have so far fallen on deaf ears. 
Debate in second reading and statements in committee from Valcourt and other Conservative MPs didn't indicate any signs of softening on the government's stance.
Last fall, Valcourt  told the delegation of Yukon chiefs they weren't "governments" under the provisions of the Umbrella Final Agreement. 
He then inflamed the situation in the House of Commons by suggesting Yukon First Nations "use the courts" if they don't like the bill and how it came about.
Last fall, Yukon MP Ryan Leef called for the standing committee to travel to Whitehorse to hear concerns about the bill.
Leef wasn't present for the vote on second reading earlier this month, but says he would have voted "yes" had he been there. He is a committee member for today's hearing in Whitehorse. 
Leef disputes First Nations' claims about a lack of consultation.
"I have viewed and confirmed the list of meetings, calls, correspondence and indeed financial assistance billed to Canada by Yukon First Nations for consultations and can conclude that consultation did occur."
Yukon MP Ryan Leef disputes First Nations' claims about a lack of consultation.
In a letter sent to all Yukon media, Leef says he has been "diligent in asking our federal minister of Aboriginal Affairs and Northern Development about the four areas of concern raised by Yukon First Nations."
He goes on to say that Valcourt has promised to consider "any hard evidence that pointed to where this legislation would violate their rights."
Leef concludes by saying that the amendments to YESAA will "result in more opportunities for Yukoners."
Territorial government wades into controversy
Meanwhile, the Yukon government's role in Bill S-6 has been a topic of hot debate.
Last December, Valcourt told the House that the controversial amendments had in fact originated from the Yukon government.
Premier Darrell Pasloski has maintained repeatedly that Bill S-6 is not his responsibility because it is federal, not territorial, legislation. He has however, also said that he supports it, because it will "create consistency" with other Canadian jurisdictions.
In December, Pasloski took the unusual step of calling on Valcourt to "correct the record", saying that Yukon First Nations are, in fact, governments.
Hearing starts at 9 a.m.
Yukon First Nations say there's a very good chance they will mount a legal challenge pending the outcome of the bill. 
"We've been very careful in saying that (legal challenge) is not our end game – because at the end of the day, litigation is going to hurt us as much as it's going to protect our rights," says Daryn Leas, legal counsel for the Council of Yukon First Nations. "It's going to hurt our people and our communities with jobs, it's going to hurt our businesses, and it's going to hurt our neighbours. And it's going to hurt the companies that carry out work in the Yukon," 
But Leas says the courts may be the only option.
"It's not a threat. It's unfortunately, probably, going to become a reality if in fact the federal government continues to push this through over the objections and concerns of all Yukoners, including Yukon First Nations."
The committee hearings get underway at 9 a.m Monday, March 30, at the Gold Rush Inn in Whitehorse.
 
Source:: http://www.cbc.ca/news/canada/north/bill-s-6-faces-standing-committee-hearing-in-whitehorse-today-1.3014310?cmp=rss