Bell accused of 'ganging up' on resale buyers by blacklisting phones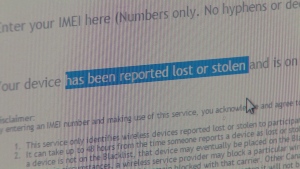 A Montreal father is taking on Canada's largest telecom, after Bell blacklisted his teenager's phone — not because it was reported stolen, but because the original buyer didn't pay Bell for the device under contract.
"It infuriated me," said Jeremy Price-Williams. "It's a case of the big guys ganging up on the little guys."
"It's my phone, and they are blacklisting it for no reason," said David Price-Williams, 17.
The blacklist is part of an international phone database. Carriers flag phones its customers report lost or stolen, using an ID number unique to the hardware, so other telecoms will know not to activate them.
Telecoms share information to prevent stolen phones from working on any network. (CBC)
In an opposite case, a Vancouver customer is upset with Virgin Mobile — owned by Bell — because the carrier failed to blacklist her phone, after she emailed to report it stolen while on a trip to Nicaragua.
"It didn't get blacklisted, shut off, deactivated or anything," said Michelle Allen.
She said she had to battle with Virgin over $2,700 in roaming charges racked up by the thief. Allen said Virgin forgave the bill only after she threatened to go public with CBC.
"The blacklisting system doesn't seem to work. Or else, they are just using it when it is convenient for them," said Allen.
'Who owns the phone?'
David Price-Williams, the Montreal phone owner, suggested Bell is misusing the system by blacklisting phones it can't collect on after they are unlocked and resold to people like him.
Michelle Allen says her phone was not deactivated when she reported it stolen to Virgin Mobile. She had to fight over $2,700 in roaming charges racked up by the thief. (CBC)
"You should be able to buy used phones if you want. They shouldn't be controlling the market like that," he said.
His father is taking Bell to small claims court.  
"It all boils down to, who owns the phone? And everybody at Bell we spoke to said the seller … he has every right to sell that phone."
The teen bought the Samsung Galaxy Note 4 in December through an ad on Kijiji, with $700 scraped together from his minimum-wage earnings.
Price-Williams asked the seller for his ID and his receipt, which showed Bell shipped it to the same customer, at the same address as on his driver's licence. That name and address is also listed on Canada 411.
The teen also called Bell, asking if the phone was restricted by contract.
Resale OK'd by Bell
"[Bell] said it would be OK, and that the phone was totally fine for me to buy," said Price-Williams.
Weeks later, the device stopped working. Telus — his provider — told him it had been blacklisted by Bell. 
After several weeks of using his Samsung Galaxy Note 4, David's cellphone suddenly stopped working. When he called the family's service provider, it told him the phone had been blacklisted by Bell. (CBC)
"Unless the previous owner has his account up to date, the phone will continue to be on the national blacklist," Bell wrote in an email to the teen's father.
"I have contacted our fraud team to see if we are able to make an exception, because you did give us a call prior to purchasing the unit. Unfortunately the answer I got was a no, as the national blacklist is not controlled by Bell."
The Canadian Wireless Telecommunications Association gave Go Public the opposite information.
"Each participating carrier … is solely responsible for their own use of the database," said spokesman Marc Choma.
Any phone can be shut down
Fine print on the blacklist website suggests any phone can be made useless, as all carriers share information through the system.
"In certain circumstances, a wireless service provider may block a particular wireless device because of billing issues with the owner," it reads.
"Other Canadian wireless carriers may or may not allow such a wireless device to be used on their wireless networks."
"They should be going after the original owner of the phone," said technology industry analyst Carmi Levy.
Technology analyst Carmi Levy suggests that the blacklist is being used to discourage consumers from buying used phones and to push them into buying new. (CBC)
"This makes it easier for the carriers to force you to buy new, because you are afraid to buy used because there's a greater chance of it being cut off from their networks. Of course you are going to go to their store."
The industry association called that "ludicrous," but also stressed consumers shouldn't buy phones posted on Kijiji and other sites.
Avoid resale sites, telecoms say
"We strongly advise that Canadians only purchase pre-owned wireless devices from trusted sources, such as retailers, service providers, family, friends or through a referral," said Choma.
He said the Canadian Wireless Telecommunications Association​ asked Kijiji to post warnings on used phone ads, warning they could be blacklisted, but Kijiji didn't co-operate. Kijiji didn't respond to that accusation, but sent Go Public a list of tips.
Choma also said telecoms have every right to blacklist phones for fraud against the telecom.
"Let's say someone … signs up for service … has no intention of ever paying … turns around and sells [the] subsidized device," said Choma. "That does ultimately create a billing issue for the carrier, but it is also fraud."
Bell told Go Public it doesn't blacklist phones over simple delinquent bills. Go Public asked how many phones it has blacklisted, but received no answer.
Bell told Go Public that it doesn't blacklist phones over delinquent bills. It said the phone David Price-Williams bought was blacklisted because the original owner obtained it through fraudulent means. (CBC)
Bell now claims it flagged the Montreal phone after it found the original buyer used a fake identity. That means it can't go after him for non-payment.
"At that point, we assigned the phone to the … database, as we do with all phones stolen via fraud or other means." 
Rogers told Go Public it does not blacklist phones for fraud like this — only when they are reported lost or stolen. Telus said it does report phones obtained through fraud, but said it would try to do the "right thing" for the innocent buyer in a case like this.
Meanwhile, in the Vancouver case, Bell said Virgin didn't blacklist or deactivate Allen's phone right away, because she reported it stolen via an email address it uses for billing.
Submit your story ideas:
Go Public is an investigative news segment on CBC-TV, radio and the web.
We tell your stories and hold the powers that be accountable.
We want to hear from people across the country with stories they want to make public.
Submit your story ideas to Kathy Tomlinson at Go Public
Follow @CBCGoPublic on Twitter
Source:: http://www.cbc.ca/news/canada/british-columbia/bell-accused-of-ganging-up-on-resale-buyers-by-blacklisting-phones-1.3012709?cmp=rss