Andrew Wiggins receives warm welcome in debut against his hometown Toronto Raptors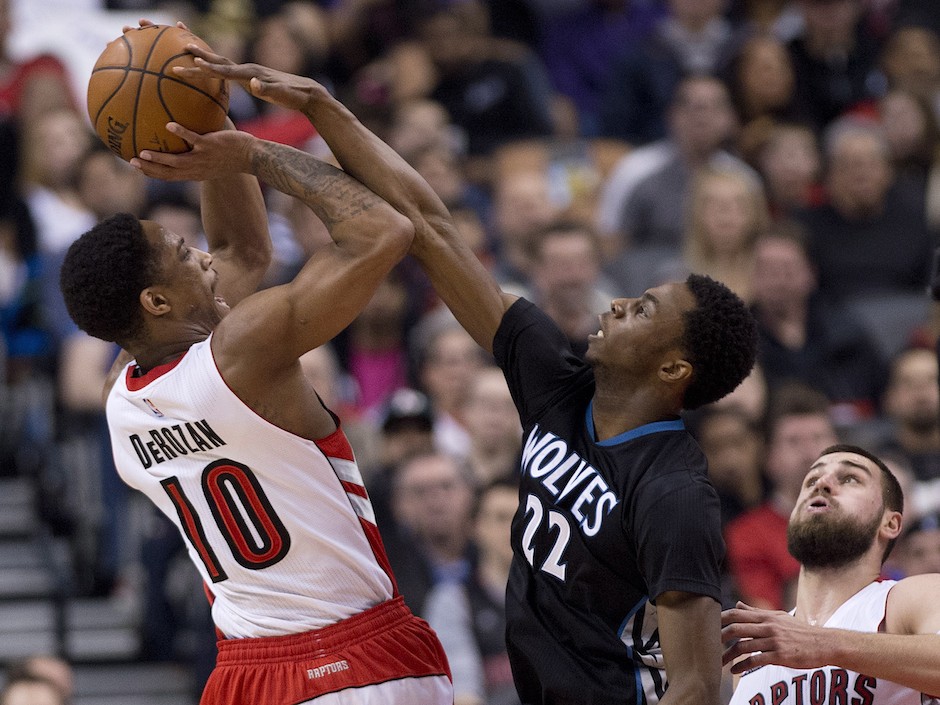 TORONTO — On the matter of Andrew Wiggins' first NBA game against his hometown team, Toronto did not exactly manage to act like it has been here before.
Despite the previous appearances of highly drafted NBA players like Tristan Thompson and Anthony Bennett on the Air Canada Centre hardwood, to say nothing of the visits from a legitimate Canadian superstar in Steve Nash, this city has swooned more than a little at the arrival of Wiggins. On Wednesday he was on the front page of one local newspaper and leading television broadcasts, and even the Prime Minister was in attendance. For a day at least, Wiggins was generally making the Toronto Raptors, in the midst of their best-ever season, somewhat of an afterthought.
He The North, as it were.
Not that the fuss isn't deserved. Wiggins, the 6-foot-8 shooting guard who has been considered Canada's basketball Great One for years now, even though he is still only 20, has managed to meet most of the lofty expectations set for him in his rookie campaign. Drafted first overall by the Cleveland Cavaliers and then briefly a teammate of the best player in the world after LeBron James upended basketball when he left Miami for his hometown team, Wiggins was then traded to the Minnesota Timberwolves as the centrepiece of a deal for Kevin Love, one of only two superstars in the history of that franchise. No pressure, kid.
But Wiggins, who is soft-spoken to the point where he makes a church mouse seem obnoxious, has just gone about his business: he's averaged about 16 points and four rebounds per game, while collecting rookie of the month honours in the West every month of the season, on the way to what will surely be a rookie of the year award when the campaign ends. His success is all the more evident when contrasted with Anthony Bennett, his Wolves teammate and fellow Toronto-area kid who was the first overall draft pick a year earlier and who is mired in another slog of a season. This is what happens to young players sometimes. The NBA season is a grind; they get worn down by the schedule and the travel and the fact that everyone else on the court is just as fast and strong as they are. The promise they show in college can be lost in the bright lights of the NBA.
But not Wiggins. "I think he's lived up to expectations, all of the pressure and expectations he had upon him being the number one pick coming out of the draft," said Sam Mitchell, a Timberwolves assistant coach making his own homecoming of sorts to Toronto. "I think he's lived up to it. We're excited about his development. He's still a young player with a lot of work and growth to do. Thus far we're very happy with what we've seen."
Mitchell praised the fact that Wiggins never gets too high or too low, and said his ability to stay in the lineup every game "tells you a lot about his makeup."
Then there are the moments when he shows flashes of the player he might become: the soaring athleticism, the smothering defence, everything you would want in a basketball player except maybe a jump shot. And that can come in time. He was foul trouble early on Wednesday night, but finished with 15 points as the Raptors won ugly, 105-100. There's no doubt that he belongs, the only question is how long it takes him to become a nightly force.
It is that promise that, for a few months at least, had Toronto fans imagining that the path to basketball relevance was a terrible finish last year followed by the selection of Wiggins in the draft. It wasn't even a bad idea, but the games still had to be played and, as it turned out, the Raptors were pretty good at those. General manager Masai Ujiri remade the roster on the fly last December and the team has been competitive for the year-plus since. They were a supernova in the early part of this season, have dimmed considerably since, but will likely host a playoff series and should at least threaten to win a round.
The Raptors' future could go in a lot of ways in the offseason, as Ujiri probably knows little more about his team at this point than he did at the start of the year, but they are set on a different path now than looked possible in the fall of 2014. That path won't, for at least the next several years, include Wiggins. Not that he won't be asked about it on his annual visit to Toronto, as he was on Wednesday. (He said he loved Minnesota and he planned to be there a very long time, which is exactly what a coachable youngster should say in response to such questions.)
He was similarly polished when talking about whether this game would be different for him, as it surely was.
"I get butterflies before every game," he said. "It'll just be another game for me. I've just got to come out and play how I usually play, play to win."
It couldn't be just another game, of course. You are allowed to be excited to play in front of friends and family. It isn't often that a visiting player gets the kind of loud applause that greeted Wiggins when he was introduced on Wednesday night. There were Wiggins jerseys mixed among the Raptors jerseys. There were Raptors jerseys with "Wiggins" on the back, which makes one glad that the league doesn't charge fans with tampering, with the possible exception of Drake.
"This is my home town, this is where I'm from," Wiggins said earlier.
Maybe Toronto will become used to having him here. But not yet.
Source:: http://www.canada.com/sports/basketball/Andrew+Wiggins+gets+warm+welcome+debut+against+hometown/10900978/story.html