7 Things to Know About Jussie Smollett on Empire—AKA Our Current Reason for Living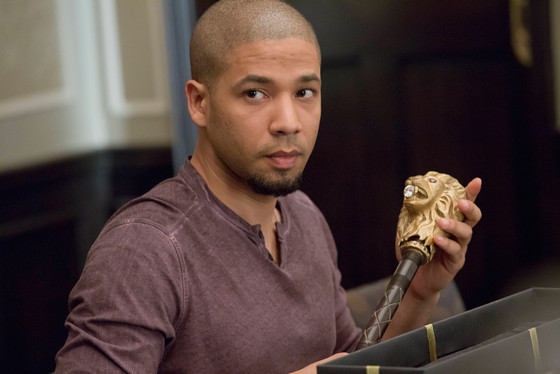 Chuck Hodes/FOX
You have your Cookies, your Lucious's, your Andres, your Hakeems. Go ahead, take 'em! When it comes to our favorite Lyon on Empire, we're all about Jamal!
Jussie Smollett has shot to instant stardom thanks to his soulful, strong and heartfelt portrayal of the middle Lyon child on Fox's breakout series, which just aired its season one finale last night to record numbers.
From Jamal's struggle with his homophobic father, to coming out publicly to (spoiler alert!) becoming the head of Empire after his father's arrest, Smollett has made us feel every up and down, every win, every loss, as if it was our own. That's true talent right there.
And that voice? Chills. 
MORE: Empire just can't be stopped!
FOX; Disney
Now that we're going to have to suffer the long months of hiatus between seasons one and two without any of the Lyon family to entertain us with their musical, professional and personal power plays, here are seven things to know about Smollett, aka our current obsession and reason for living!
1. He was a Mighty Duck! That's right, Smollett played Terry Hall in the 1992 cult favorite movie The Mighty Ducks with Joshua Jackson. Flying V forever!
2. His first acting role was in NBC's 1991 movie A Little Piece of Heaven, with Lacey Chabert. They played two kids who were stolen from an orphanage and an abusive home by two siblings who want to raise kids on their farm, and they told the kids they died and "went to heaven."
MORE: What happened in the Empire season finale
3. Smollett was making music long before Empire came around. In 2011, he released an EP album The Poisoned Hearts Club. Check out his track "Get Em Up" above!
4. Like his onscreen alter ego, Smollett recently publicly came out as a gay man on The Ellen DeGeneres Show. "It was really important to me to make sure that it got across that there is no closet," Smollett said. "There's never been a closet that I've been in. I don't own a closet, I got a dresser, but I don't have a closet…I have a home and that is my responsibility to protect that home."
CLICK: You'll never guess who wants to play Cookie's mom!
FOX
5. Empire isn't his first Fox role, as he once guest-starred on The Mindy Project with Ellie Kemper!
6. Talent runs in his family: his sister Jurnee Smollett-Bell played Michelle's friend Denise on Full House as a kid, and more recently starred as Jess Merriweather on Friday Night Lights and Nicole Wright on True Blood.
7. Smollett also once shared his spotlight with all his siblings on the 1994 ABC sitcom On Our Own, along with Jurnee, Jake Smollett, Jazz Smollett, Jocqui Smollett and Jojo Smollett.
Now let's all go rewatch the entire first season of Empire until season two premieres on Fox.

CLICK: Let Empire's Cookie inspire you with these epic motivational posters
RELATED VIDEOS:
Source:: http://ca.eonline.com/news/637538/7-things-to-know-about-jussie-smollett-on-empire-aka-our-current-reason-for-living?cmpid=rss-000000-rssfeed-365-topstories&utm_source=eonline&utm_medium=rssfeeds&utm_campaign=rss_topstories