Rosamund Pike Is "Close to a Six-Pack" 3 Months After Baby—Trainer Reveals the Actress' Fitness Secrets!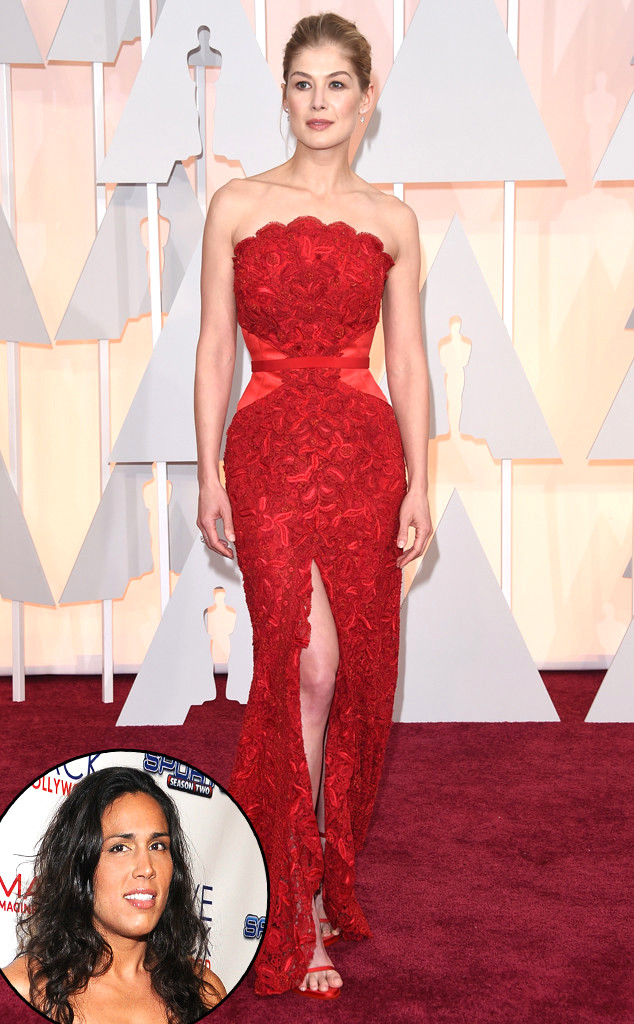 Killilea/WireImage/Jason Merritt/Getty Images
And the award for best bump-to-abs transformation goes to…
Rosamund Pike looked the most beautiful we've ever seen her at the 2015 Oscars, for many reasons: Her crimson-lace Givenchy dress, which wowed on the red carpet, as well as her unfussy updo and perfectly feminine beauty look—all undeniable factors in her head-turning appearance. But the mom-of-two, who gave birth to second son Atom with husband Robie Uniacke in December, was looking, well, ripped.
Rosamund's post-baby body transformation (which happened in just five weeks) is largely due to her relationship with celeb personal trainer and professional boxer Holly Lawson, who was also helped Pike with her character's required weight fluctuations during filming for Gone Girl. Lawson gave E! News the scoop on transforming Rosamund's figure, not once, but twice during the out-of-sequence filming process and for a jam-packed awards show season (Pike's performance in Gone Girl snagged her Golden Globe, SAG, and Oscar nominations).
PHOTOS: Celebrity fitness stars
Getty Images; AP
"In the movie she is just kind of binging. I actually did the nutrition the whole time for her. As a trainer you know certain things and as a fighter you know certain things," Lawson said. "I was able to look at her and her body and feel it out a bit. The easiest thing was to put as much muscle on her as I could and then a layer of fat on top of that."
At a certain point in production, Rosamund had only 10 days (read: 10) to lose the weight, which meant Lawson took her off the high-sodium diet which had been necessary for the weight-gain process and implemented a high intensity, plyometric workout that included running, burpees, squat jumps and many different variations of a plank.
"I will say this—Rosamund was really game. She was a little hesitant at first but as soon as she saw the results she listened to me. She still listens to me," Holly said of the star.
Jim Spellman/WireImage
After filming for Gone Girl wrapped, Rosamund and Lawson paired up again as the big awards show season approached.
"She was so fit for Gone Girl. She had never been that fit in her life," Lawson said. "She really wanted to get back in that space again after having the baby. When she was at the Globes we hadn't started working yet, but she had started doing things we did [during filming]. From the Globes to now is all the work that we put in. She is amazing. Her body is literally back to what it was…she is close to a six pack again."
As for those wowzah results, Lawson explains that she trained Rosamund four to five days a week for an hour throughout the red carpet season. (Now, the two are falling back to two to three day regime.) Lawson maintains that she is a big believer in functional strength, which is not just for aesthetics.
"She's back into her pre-baby clothes," the fitness maven revealed. "I don't go off of weight unless it's required because I think it can make women, particularly actors, obsessive over something that is not the most important," Lawson said. "Everything I do and preach is about being the best version of you. Being the strongest, smartest, most loving version of yourself."
PHOTOS: Celebs dish on their diet and fitness secrets
RELATED VIDEOS:
Source:: http://ca.eonline.com/news/629550/rosamund-pike-is-close-to-a-six-pack-3-months-after-baby-trainer-reveals-the-actress-fitness-secrets?cmpid=rss-000000-rssfeed-365-topstories&utm_source=eonline&utm_medium=rssfeeds&utm_campaign=rss_topstories